Bill Cartiff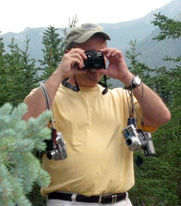 Bill is a graduate of The Ohio State University with a degree in Education as well as a graduate of the Dale Carnegie Course in Effective Speaking and Human Relations. He taught for several years in the public and private school systems, all the while fulfilling a passion of coaching baseball at various levels. After teaching for several years, an opportunity to work as an administrator with adults at the JCC helped him establish himself as a professional leader as well as a customer relations specialist, program director and presenter.
As a Jewish communal worker, Bill began to identify a growing need of a particular demographic; Jewish singles. The need to provide various outlets for Jewish singles to meet was a chance to learn more about serving an adult clientele and provide a service to the community. It ultimately became an opportunity to show people the world! Identifying this need for the Jewish single community-at-large became a passion, and Bill's devotion to the idea helped cultivate its growth. Now, with over eighteen years experience leading travel groups, he has escorted nearly 100 tours to destinations on all seven continents.
Regarding his tour leadership Bill states, "We have a very hands-on approach and consider our clients like family. We design each value-added trip to meet the travel, social and personal needs of every passenger; offering choices, fun and an overall carefree experience."
Bill never underestimates the meaning behind what he does. The vision of taking people to places of their dreams and knowing that Amazing Journeys vacations are 'vacations that change your life' are a driving force behind his commitment to providing care, attention, customer service and value to everyone's travel experience.
"Never in a million years did I think I'd be doing what I'm doing now; leading tour groups around the world. Never in a million years would I want to be doing anything different. . ."
Favorite thing to do?
Coach Baseball….walk someone's dog (I don't have one myself)….drink the first Starbucks of the day….take a cruise.
Most adventurous thing you have done?
Heli-hiking on an Alaskan Glacier. Canyoning in Costa Rica. Flying an airplane (me on the controls!) over downtown Pittsburgh.
Most unusual local cuisine sampled?
Kangaroo.