by Malori
The High Holidays are a time for reflection.  Looking back over the past year, I took stock of what brings me happiness, where my strengths and weaknesses are, how I can improve upon those areas and what has made me the most proud over the past year, as well as a myriad of other thoughts, hopes and wishes.  As always, I had a lot to think about.  Amazing Journeys has been instrumental in creating so much happiness in my life and the lives of others, that I wanted to share these thoughts with you.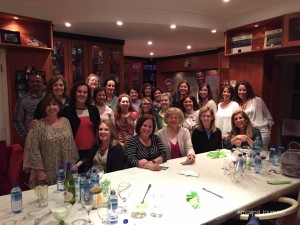 I look at the opportunities to share the world and all of its goodness with those who travel with me.   Together with others, we can explore the world to find the beauty in nature as well as the beauty in experiencing different cultures.  Once you have an understanding of another culture and meet people from other countries face-to-face, you have uncovered a treasure that can never be ignored.
I look at the friendships that have been cultivated. When I see people on our trips who never knew one another before, building camaraderie  and having so much to talk about during a trip, it warms my heart.  We have created a place where this can happen.  Then long after the trip is over, many of these relationships build.  I love seeing on social media and hearing stories about friendships that had begun on an Amazing Journey and I see pictures of friends joining together for dinner or a visit or to see a show or concert together.  I see that those who are in need of a "virtual hug" when illness hits, disaster strikes or there is a death in the family, the AJ community comes out to offer words of kindness and offers to share that journey.  Just yesterday, we hosted an AJ friend who was passing through Pittsburgh, and she was able to share our holiday meal with our family.  Wonderful bonds between friends are created and fostered.
Our AJ community has been so gracious in giving when asked.  We have shared with others around the world by bringing clothes, school supplies, toiletries and shared religious experiences.  Those who have been the recipients of these "gifts" have been so thankful to our travelers for thinking of others while traveling.
Understanding diversity in the world, building friendships and sharing with others are three attributes that make me so proud of what I do.