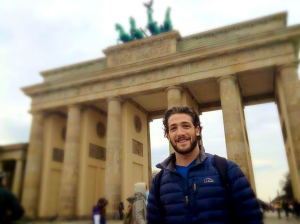 Noah has not seen all of the world, but definitely plans to try!
At the ripe old age of 6, Noah's love for travel was noticed when his grandmother took him on a trip from his hometown of Detroit to Los Angeles. "I love meeting new people. With each new person I get to hear a story about a different part of the world".
Graduating from Baldwin-Wallace College with a degree in Exercise Physiology and Biology and a minor in enjoying life to the fullest, Noah quickly realized that he could use his education anywhere in the world. So after a surprise phone call with an offer to play semi professional soccer in Germany, he decided without hesitation that he couldn't miss out on this once-in-a-lifetime opportunity. Now living in Berlin, he is closer to some of the most amazing things in the world; the history and architecture of Warsaw, the beer in the south of Germany, the pasta of Italy and the nude beaches in France!
Noah's love for the world, passion for bringing people together, positive attitude and fun demeanor make him the perfect addition to the Amazing Journeys family and we are excited to have him as part of our crew. Noah will be staffing this summer's Mediterranean cruise and looks forward to meeting the group in Europe!
For more information on our cruise to the Mediterranean this summer, click here!