"Amazing Journeys"….or "Azamara's Journey"; no matter how you slice it, its a match made in the ocean.
Jan 17, 2013
The new buzz word in the world of cruising is "Azamara".  A two-ship cruise line and part of the Royal/Celebrity family of ships these vessels are  a special brand unto itself.
Azamara states that they are "out to change the world…or at least how you get there"…and Amazing Journeys is becoming a regular partner.  Over the past two years, we have taken about 100 passengers on Azamara, much to their exceptional delight.  This year, you too can partake in the experience.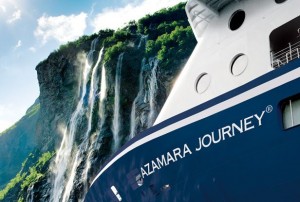 What makes Azamara different? 
A smaller ship experience. 

Upscale attentiveness and service.

More inclusions including all non-alcoholic beverages, specialty coffees, bottled water and even wine with meals

An almost 1:1 ratio of guest and staff

Late night and overnight ports of call in unique out-of-the-ordinary locales

Half price shore excursion and substantial air fare specials

And much much more!
In the news, Journey emerged last week from an eight-day makeover in dry dock.  The 694-passenger cruise ship has been spruced up with new carpets and upholstery in public spaces; new mattresses and upgraded balcony furniture for cabins; a resurfaced pool; and new sun loungers and pool towels on the outer decks. Among areas getting the most significant upgrades was the Journey's Casino Bar, which was expanded and enhanced with new furniture. Also getting a notable overhaul was the ship's spa and fitness center, which received a new steam room, showers and Life Fitness cardio equipment.
On the culinary front, a new caviar and champagne bar was added to Aqualina, one of the ships' two specialty dining venues. The makeover also brings a new Chef's Table concept that will feature three wine degustation menus serving Italian, French and California cuisine, respectively.
Amazing Journeys clients demand excellence and Azamara is the one to provide it. The Journey  is currently sailing on a 13-night Indonesia voyage round-trip from Singapore….but come April 17th she will begin a journey of stellar proportions. First and foremost, the Journey will become "Amazing" in more ways than one.  AMAZING JOURNEYS will join the Azmara Journey in Singapore for a unique one-time-only voyage through the jewels of the Indian Ocean.  After an overnight in Singapore, we'll be sailing to Malaysia, Sri Lanka and 3 cities in southern India before disembarking for an optional 3 night extension into India's northern geography for a chance to visit Delhi, Agra and The Taj Mahal.
This 14-night cruise will be one for the ages.  We still have limited space available; if you'd like to learn more call Amazing Journeys at 412-571-0220, email us info@amazingjourneys.net or visit https://amazingjourneys.net/trip/spice-route-cruise.  See more about this awesome ship: http://www.azamaraclubcruises.com/plan-your-voyage/booking/explore-our-ships/azamara-journey
View older entries
No Comments
No comments yet.
RSS feed for comments on this post.
Sorry, the comment form is closed at this time.