Prepare to be amazed. How many once-in-a-lifetime vacations can one person have? We don't think there should be a limit. So every one of our Jewish singles trips and singles cruises is designed to strike the perfect balance of exploration, relaxation and jubilation. Perhaps that's why we have so many repeat passengers…and why so much of our business is based on referral. Isn't it time you found out about our group travel for yourself? Click on any of the images below for trip details.

Trip Search

Meet up with Amazing Journeys travelers from past, present and future trips.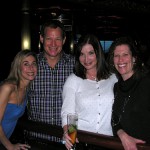 Vodka & Latke Hanukkah Happy Hour
Thursday, December 14 at 8pm
Hanukkah is right around the corner and we want to celebrate with our AJ community with a Vodka & Latke Hanukkah Happy Hour! Join us for some friends, some prizes and a whole lotta fun! Click here to RSVP.
Click here to sign up for our email newsletter to receive information on upcoming events and trips!