Foundation mission connects with Jewish communities Down Under
The Jewish Chronicle
December 13, 2019
Are kangaroos kosher?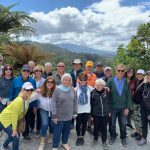 The 33 members of the Pittsburgh Jewish community who were part of the Jewish Community Foundation's first mission to Australia might be able to answer that question for you.
The mission — Foundation Down Under — visited sites in Melbourne, Sydney and New Zealand, according to Sharon Perelman, director of planned giving and associate foundation director.
Lori Shure chaired the mission with her husband Bob. She believes the trip was a once in a lifetime opportunity, not only to visit Australia but to see Jewish Australia through the eyes of Foundation Scholar Rabbi Danny Schiff, who grew up in the country.
Instead, they would be touring a country with a different type of Jewish community.
"I was volunteering at Federation helping to plan missions," Shure recalled. "We were trying to decide what kind of trips Federation should be involved in because they aren't a travel agency. I questioned if this trip fit. But the opportunity to travel with Rabbi Schiff and see Australia through a Jewish lens meant that it was so unique and compelling, as was seeing a different kind of Jewish community. Given that, I knew it made sense."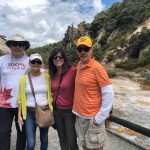 Of course, it wasn't simply the communities that are different. Perelman pointed out that being south of the equator changed more than just perspectives. Australians celebrate holidays in what we consider off-season.
"They were going into spring and getting ready to celebrate Chanukah. People don't think about how Jewish holidays are based on the seasons in Israel and the northern hemisphere, so to be there now was really interesting."
Andrew Horvitz, 26, was the youngest member of the group.
"I thought the trip wouldn't be as jam-packed as other trips I had been on because it was with older people," Horvitz remembered with a laugh. "But every day we were up early and out late. It was a really good balance of learning about Australia and learning about Jewish Australia. I really enjoyed that we got to see both sides."
The mission left the United States on Sunday and, due to the time change, arrived in Australia on Tuesday. They spent their first hours in the country at a casino watching the Steelers best the Miami Dolphins on Monday Night Football.
At that point, "our primary goal was to stay awake and get onto the right schedule," Shure said. "The trip really started the next day."
Melbourne has a Jewish community of 55,000, a number close to Pittsburgh's 50,000. But the two communities differ in key ways.
Melbourne has 11 Jewish days schools, compared to Pittsburgh's three. Sixty-five percent of Jewish students, K-12, attend a Jewish day school — and most Australian students are not Orthodox.
By contrast, Pittsburgh has 19% participation in its Jewish day schools. Of course, success is in the eye of the beholder. As Schiff noted in an email after the trip, "the Australians we met were busy lamenting that 15 years ago their percentage attendance levels were at 80%."
Shure had some familiarity with Jewish Australia. She recalled spending Shabbat morning at Beth Israel, a Melbourne congregation where Schiff served as rabbi before coming to the States. She noted how nice it felt to be at synagogue on the other side of the world yet feel completely comfortable.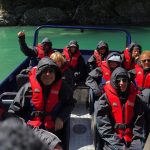 "It was right after the commemoration of the tragedy at the Tree of Life. They had Rabbi Schiff speak and invited our group up for an aliyah. It was a really nice thing to be a part of."
Aside from Melbourne, the mission spent time in Sydney. For Shure, seeing the not-for-profit organization Big Kitchen was a highlight of the trip.
"Last year, they made over 80,000 meals and distributed them to disadvantaged Australians regardless of religion. We met with the rabbi that started it and his wife. I think people were really taken by it and the work they do."
The mission learned about other interesting facets of the Australian Jewish community. "There are more Holocaust survivors in Australia than anywhere outside of Israel," Perelman pointed out.
While the trip featured a strong educational component, it also allowed time for sightseeing and other activities, like scuba diving at the Great Barrier Reef, visiting the Sydney Opera House and climbing the Sydney Bridge.
The various locations proved a logistical challenge that required multiple flights and bus rides. Even that, though, provided an opportunity for community building.
"We were in New Zealand and went to learn about the culture of the Maori, the native people," said Shure. "The woman driving the bus was a Maori. She said, 'Wherever you're from, I want you to sing a song.' … An Israeli woman got up and sang 'Hava Nagila' and the whole bus started singing with her. It was so funny — you're halfway around the world and find like-minded people."
Shure had been on previous missions, including Prague and Budapest and Israel. "Those trips were easy to understand," she said. "This was a different type of trip and an opportunity to learn about a different Jewish community and it felt as connected as every other Jewish trip."
Oh, and as for kangaroo, according to the OK Kosher website, it is not kosher and was not sampled as part of the Foundation's mission.
by David Rullo
Read the article here