Willow Schecter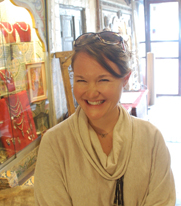 Wanderlust swept Willow up her junior year of college – boarding a plane for the first time in her life headed to Turkey for three weeks. After growing up in a small town in Pennsylvania, seeing the world through new cultural and historical lenses was truly life-changing.
Fast forward through a roving semester abroad studying the European Union as the 10 new Eastern countries joined, living and catering in Barcelona for two years, starting a business while in London for four years, innumerable side trips to 20 countries, and having two children along the way — Willow has found her way back to PA where she now stays close to the travel world with the Amazing Journeys mishpocheh.
Willow's experience as a seasoned traveler and professional background in Cultural Anthropology, Community Programming and Event Management add to the team's detail-oriented, cosmopolitan and truly unique culture.
Willow has organized charity races in NYC and London, conferences, and countless events for families and professionals. She currently serves as Social Action Chair on the Board of Trustees at Beth El Synagogue, holds a Wechsler Fellowship through the Jewish Federation of Pittsburgh and is actively involved in the Boards of local family organizations including the Religious School Board at Beth El, Odyssey of the Mind, Cub Scouts, and Girl Scouts. She is actively working with organizations in Pittsburgh to achieve the Hazon Seal of Sustainability.
"Whether it's traveling across the globe or across the state, there are few things more fulfilling than experiencing the beauty, mystery and connectedness of this earth and everything on it through open-minded travel."
Where are you dying to go?
I would love to hike the length of the Great Wall of China, ride an elephant in Bali, and hot air balloon ride in Cappadocia.
Most adventurous thing you have done?
I quit my job and moved to Barcelona!
Most unusual local cuisine sampled?
Tasting Rabo de Turo – bull tail stew in Andalusia!