Malori Asman, CTC, MCC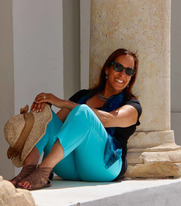 Founder and Chief Amazement Officer Malori Asman brings with her over 30 years of travel industry experience.  Her travel experience speaks for itself—she has sailed on more than 130 cruises and has traveled to over 125 countries on seven continents.  In travel, you name it, Malori has done it from organizing groups both large and small (850 passengers), to being an international travel specialist, leisure vacation-planning expert, corporate incentive travel diva and Vice President of Cruises.  In 1993, seeing the need to provide travel opportunities for single travelers, she presented the idea of Singles Cruising to a local organization.  The idea took off and over 200 cruises and tours have been successfully operated, leaving thousands of past passengers, "hungry for more."
After graduating from the University of Alabama, Malori received the prestigious CTC (Certified Travel Consultant) designation from the Institute of Certified Travel Agents, and her MCC Certification (Master Cruise Counselor) from Cruise Line International Association. In addition to having served on the Board of Directors for many local organizations, Malori has also served on the Advisory Board of Cruise Shoppes of America, a group comprised of 3,000 travel agencies.  In addition, Malori served on the Group Department Advisory Boards for both Royal Caribbean International and Celebrity Cruises.
Malori says the best part about our singles tours is that besides providing travelers with unique travel experiences, passengers tell her "they have made lifelong friends with people they met on our trips."  Malori is extremely proud of the more than 80 people who met and married as a result of their travels on Amazing Journeys.
"Travel is my passion.  My first recollection of my love of travel dates back to age four, when we took a family trip to Guadalajara, Mexico. Celebrating my birthday with my new friends and a pinata filled with candy was all I needed to create an enthusiasm that would last forever. Traveling all over Europe on two family trips while I was still in high school sealed the deal for me."
What is the most adventurous thing you have ever done while traveling?
Ice swimming in Antarctica in 34 F / 1.5 C waters!
Favorite mode of transportation?
Hot Air Ballooning – With nothing but the wind overhead, and a basket at your feet, floating high above the earth…it's amazing!
Best piece of travel advice?
I learned this one from my mother, "Always have a valid passport and a credit card.  You never know when someone will invite you to travel overseas at a moment's notice.  And don't worry about packing, you can always buy what you need once you get there."  Those have been words to live by and have taken me far.