Michele L. Rosenberg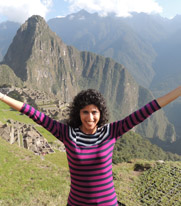 Michele has a degree in Travel and Tourism, Hospitality and Business Management.  Since 1990 she has worked almost exclusively in the travel industry as Vice President of Administration for a large travel agency, Onsite Group Travel Coordinator and Travel Consultant.  In her various capacities she has overseen a plethora of disciplines in the industry ranging from hospitality of groups up to 3000 people, to facilitating the development, marketing and daily preparations for hundreds of group travel programs, to managing the individual needs of over 500 passengers a year.
Michele's passion for travel emerged from a very young age.  As many of her family members live in Israel, planning her family trips was a time she always looked forward to even as a child.  Eventually, as a student, she recalls the day recruiters came into her school and spoke about the travel industry. It confirmed what she had felt all along and she remembers the voice inside her head, "this is the right career path for me."
Since the inception of our travel program in 1993, the travel destinations have changed often, but the team of Malori and Michele has not.  Michele shares a great sense of pride with this team that has been doing this together since the very beginning!
Underscoring the value of what a travel program means to Jewish travelers, Michele states, "I have been witness to many life changing experiences.  Being able to provide "vacations that change your life" to many individuals whom we welcome into our extended family each year is my passion. We give you the world…and when you return with amazing memories and friendships, it means the world to us."
"Enjoy each of the moments big or small-many will not be as you envision or plan but that is what makes the journey an amazing one . . . ."
All-time favorite destination?
Anywhere with my family makes for the best destination in the world.
Favorite thing to do?
Meeting locals and experiencing and learning about other cultures. I also enjoy sitting at an outdoor café and people watching after a great day of touring.
One thing you can't travel without?
My clipboard!