Stacey Stamm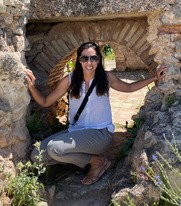 Stacey has the Travel Bug. She'll admit that to anyone. She loves to explore different countries, learn about their cultures, take in their architecture and taste their cuisine. Growing up in a family of travel enthusiasts, any journey was imaginable, and any destination was within reach.
She graduated from the University of Wisconsin and majored in International Studies and History which only increased her appetite to explore. She also studied abroad in Sevilla, Spain where she totally immersed herself in a foreign country – its language, culture, food, and nuances.
Stacey has been involved with Amazing Journeys since high school and began leading Jewish singles groups during college. During these trips, she got to know the people and places that make Amazing Journeys so fantastic. These trips have led Stacey to escort groups on all seven continents and travel to over 60 countries!
Stacey's favorite part about working at Amazing Journeys is crafting itineraries.  Each trip starts as an idea, then she dives into the research and itinerary-planning, hand-crafting each journey until it is perfect for our travelers.  She loves to infuse trips with unique experiences like cooking classes, walks through local markets, visits to women's cooperatives and schools, and more.  She loves for travelers to stay in the heart of each location to get the fullest experience – whether that's in the Old City of Fez, near a volcano in Costa Rica, luxury tented camps in the bush in Africa or a palace along a lake in India.  Her goal is to present unique, authentic, memorable experiences that make each journey an amazing journey.
"I'm always excited to research a new destination, plan our next adventure and discover a new culture. The world is constantly growing and changing, and I want to get out there and explore it!"
Where you are dying to go?
I'd love to have more adventures in South America!
Most adventurous thing you have done?
Skycoaster in New Zealand – good thing Erin was there to pull the cord or else I would still be up there.
Most unusual local cuisine sampled?
Hot pot in China – it's a mystery what you'll actually get. Chicken foot? Check. Black egg? Check.