Miles Becker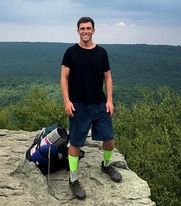 Miles studied Economics at Columbia University in NYC while running track and cross country as an undergrad. But after one year working as a consultant in the finance industry, Miles fled the corporate world to work for Rustic Pathways student travel operations across Asia. This transition expanded his world view and shifted his career and life pursuits towards student leadership, adventure, and responsibility. He spent 2.5 years with Rustic overseeing student service programs in addition to his China-focused Asia sales route. Managing projects to improve rural education and urban health initiatives in Cambodia was his primary role with Rustic Pathways, but he also led trips horseback riding in Mongolia, skiing and trekking through Chile's volcanoes, and experiencing remote village life on the Mekong River in Laos. Miles left Rustic Pathways to become an early stage employee for Remote Year, a 'digital nomad' start-up, in Malaysia, Vietnam, and Argentina.
Miles prefers to spend his free time outside. His most exciting personal experiences have been enjoying organic food and intensive yoga on a ranch in Costa Rica's rainforest, skiing Hokkaido's cliffs and tree chutes in Japan, hitchhiking around New Zealand, and enduring a 101 kilometer ultramarathon in Andalusia, Spain. He is fluent in Spanish and has been to 79 different countries in the past 11 years through different jobs and travel adventures.
"Exploration and immersion have been my greatest pillars of joy, intrigue, and personal growth! Friendships made while on a journey are often my most enduring and close relationships, as shared experiences abroad and in nature are many of my most cherished memories. On an individual level, plane flights and travel days/nights have been notable periods of reflection, anticipation, and gratitude for the gift of life and opportunity to travel."
Most adrenaline packed situation?
The Nevis Bungy jump down into a canyon of Queenstown, New Zealand.
Best hotel room you've experienced?
The Gran Meliá Iguazú on the Amazing Journeys trip to Iguazú Falls after the Hiking in Patagonia experience. It's the only hotel within the National Park and a breathtaking place amidst the fog from the intense water output of the falls.
Most stressful travel situation?
After a conference in Bangkok, I was stuck in traffic in a taxi on Bangkok's elevated highways for 3 hours inching towards the airport. I was tasked with flying to Vietnam and meeting a group of arriving students. Somehow I made my flight despite arriving 25 minutes before departure time and I had a coworker collect my checked bag that didn't make it on time.