Barry Asman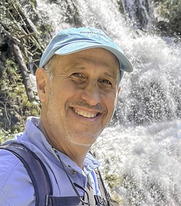 Barry has been very closely affiliated with Amazing Journeys since even before its birth… being Malori's husband may have something to do with this.
Barry has found that his travels have given him the opportunity to pursue one of his greatest passions… photography.  Best known by his fellow travelers for his now famous words:  "One… Two… Three… Excellent!", Barry has documented many of the Amazing Journeys digitally to be enjoyed by all.  Helping other "Amazing Journeyers" get that "perfect shot" is one of his goals.
Having retired from his day job as a physician, Barry may be found hiding behind his camera, or at his computer where he is often tasked with discovering IT solutions for Amazing Journeys.
"Traveling has allowed me to see an amazing world out there. Photography has allowed me to bring a little part of that world home with me."
Favorite thing to do while traveling?
Take photographs.  I find that when taking my photographs, I've learned to see places in a different way.  I not only see the sites, but I've also learned to appreciate the colors, the light and shapes that many people never even notice.
What is your favorite mode of transportation?
I really enjoy traveling by train.  It affords one the ability to sit back and take in the scenery at a relaxed pace and still be able to get up and stretch your legs.
What is the most adventurous thing you have done?
White-water rafting through glacial waters in Alaska and hiking up (and down) Machu Picchu in Peru.
Thing you always forget to pack?
I'm usually obsessive compulsive about my packing.  I don't often forget to back anything…except for the time I forgot to pack underwear…oops!