Eli Ilan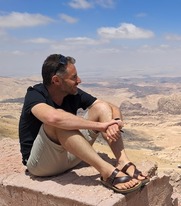 Eli loves history, people and travel so much that he decided to make a career of it! Other than working as a certified Israel tour guide, Eli holds a BA in business and Sociology-Anthropology, is a trained group dynamics facilitator and is currently completing an MA in history as well as a certification as a personal life coach by the Adler Institute. In his free time he enjoys running (and giving running tours!), hiking, good books, music, food, people and dogs!
Eli has gotten to know Amazing Journeys up close and personal serving as a tour guide for one of the company's trips to his homeland, Israel. The journey was indeed AMAZING and Eli is delighted to come on board as Amazing Journeys staff and escort trips throughout the world!
"Traveling for me is way beyond sightseeing. I love connecting with new people, tasting different flavors, experiencing other cultures and learning their history. There is so much more in this world than just our everyday routine and environment, and it blows my mind every time!"
What is at the top of your bucket list?
Going to see the Pyramids in Egypt and visit Cairo.
Best piece of travel advice?
Go running through the streets of the city or town you arrived in. You'll get a glimpse into local life and a morning workout!
Favorite mode of transportation?
Train. There is something so relaxing and classic about traveling by train.