Here at Amazing Journeys, we're lucky to have the best jobs in the world—and we think our good fortune is worth sharing. So, when your next journey seems like a distant dream, take a few minutes to explore our WANDERLUST blog—it's chock-full of engaging tales and helpful tips from our travels around the world.

Airline fees you may not hate
Oct 11, 2013
-by Erin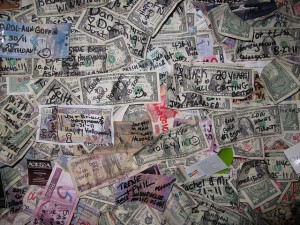 Within the past few years, passengers have been hit with airline fees for seemingly every part of your trip.  From booking your flight with an actual person on the phone to checking your suitcase to enjoying an in-flight snack, each transaction had travelers opening up their wallet again and again.  It was maddening how things that were once included in your day of travel are now a la carte with additional costs.  With that being said, airlines are now introducing a new slew of fees, but this time passengers might actually like them. Unlike the first generation of charges which dinged fliers for once-free services like checking a bag, these new fees promise a taste of the good life, or at least a more civil flight. Extra legroom, early boarding and access to quiet lounges were just the beginning.
Airlines are now renting Apple iPads preloaded with movies, selling hot first class meals in coach and letting passengers pay to have an empty seat next to them. Once on the ground, they can skip baggage claim, having their luggage delivered directly to their home or office. In the near future, airlines plan to go one step further, using massive amounts of personal data to customize new offers for each flier.
Carriers have struggled to raise airfares enough to cover costs. Fees bring in more than $15 billion a year and are the reason the airlines are profitable. But the amount of money coming in from older charges like baggage and reservation change fees has plateaued. So the airlines are selling new extras and copying marketing methods honed by retailers. Technological upgrades allow airlines to sell products directly to passengers at booking, in follow-up emails as trips approach, at check-in and on mobile phones minutes before boarding. Delta Air Lines recently gave its flight attendants wireless devices, allowing them to sell passengers last-second upgrades to seats with more legroom. And just like Amazon.com offers suggested readings based on each buyer's past purchases, airlines soon will be able to use past behavior to target fliers.
Other airlines are experimenting with tracking passengers throughout the airport. In the future, if somebody clears security hours before their flight, they might be offered a discounted day pass to the airline's lounge on their phone. Airlines have yet to find the right balance between being helpful and being creepy. So, for now, most of the data is being used to win back passengers after their flight is delayed or luggage is lost. "We want to get back to a point where people feel like travel isn't something to endure, but something they can enjoy," says Bob Kupbens, a former Target executive and Delta's current vice president of marketing and digital commerce.
Southwest has held off charging for most checked bags. But it sells plenty of other add-ons. Recently, it introduced a way for people at the back of the boarding line on some flights to cut to the front for $40. Airlines now alter fees based on demand. United Airlines used to sell its Economy Plus extra legroom seats for one price per route. Today, aisle seats cost more than middle seats; prices are higher on popular flights. Airlines are also starting to bundle items. Passengers purchase items they might not necessarily buy alone; it also simplifies the dizzying array of offers. American offers a package for $68 roundtrip that includes no change fees, one checked bag and early boarding. Delta is experimenting with a $199 subscription that includes a checked bag, early boarding, access to exit row seats and extra frequent flier miles on all flights a passenger takes between now and Jan. 5.
Airlines say the fees bring a sense of fairness to the system. Why should a passenger with a small carry-on subsidize a family of four, checking suitcases? Jamie Baker, an airline analyst with JP Morgan Chase, likens it to a meal at a restaurant. "The sides are not included in the price of a steak," he says. "Airline ticket prices should reflect the costs incurred by the individual passenger."
Original article can be found here
View older entries
No Comments
No comments yet.
RSS feed for comments on this post.
Sorry, the comment form is closed at this time.