by Erin


As we return from our industry preview cruise on Celebrity Edge, we come back with pictures, details and excitement about this brand new ship – and with that, the countdown until our return.  There are so many captivating, innovative, luxurious and surprising details that come together to create this amazing ship and being able to experience it first hand is really the only way to take it all in.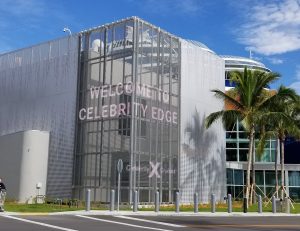 Before you even step onboard, you know that this ship is different.  Having a cruise terminal in Ft. Lauderdale designed just for this ship, everything about the entry process screams 'brand new'!  From the clean lines and bold colors of the terminal and use of technology for a seamless boarding process, you will be walking onto Edge quickly and feeling your pre-travel stress melt away.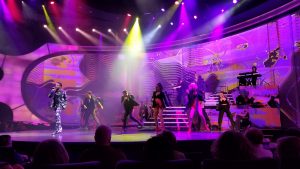 Once onboard, even those who are very familiar with other Celebrity ships will be blown away.  At first glance, the layout is similar to what you expect but with tons of feedback and meticulous attention to detail, you will be wowed at the thought that went behind every element of Edge.  From the three-story Italian inspired atrium that is home to the Martini Bar and evening entertainment to the more intimate dining rooms, the guest relations desk which seems more like visiting a friend to the immersive theater space and the interactive Eden lounge to the multi-use Magic Carpet, you literally won't know where to start.  Many sailings start with a day at sea and you are going to love this time as you take in every part of this amazing ship.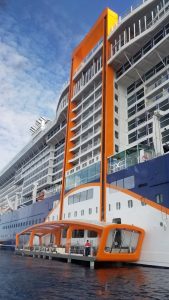 Speaking of the Magic Carpet, let me take a minute to tell you about this awesome feature!  Initially created as a new way to complete the experience when taking a tender to shore, a new space was created to streamline the process.  Rather than standing in the stairwell and waiting your turn to go into the bowels of the ship to hop on a tender and head to shore, a beautiful waiting area now awaits.  When going to shore on a tender, you can now spend time in the beautiful lounge where bars are on either side and comfortable chairs and couches are where you relax before taking your turn on the beautiful new boats.  Click here to see a video of the Magic Carpet in use (click on the link and then play the video for the whole experience including sound)!  Celebrity usually uses tenders to only 20% of their ports, but after seeing how it works now, we may hope for more tender ports.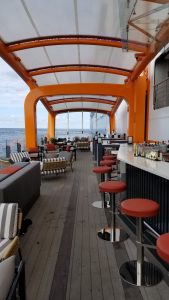 With this new Magic Carpet as a tender space, the cruise line thought how to make the most of this feature and use it as a multi-purpose space.  When raised to the fifth floor, it becomes an outside extension of the Sushi of Five restaurant – when elevated to deck 14, it lives as a lounge/bar area that is next to the cabanas poolside.  With a number of uses, this is the first cantilevered restaurant at sea!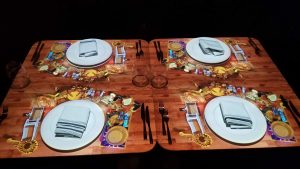 Dining on a Celebrity ship is always an art form as the line prides itself on service and quality.  But rather than continuing with the traditional "main dining room" where 2,000 people are served dinner in one large room, Edge has approached dinner time from a different angle.  Boasting four dining rooms, this ship offers dining in a different way.  Each dining room has a traditional shared menu that rotates nightly but remains consistent throughout the restaurants – but, in addition to the traditional menu, there is also a restaurant specific menu that is offered each night.  So, if you are in the Italian inspired restaurant for dinner, you will have the same options as all other diners, as well as specific Italian themed offerings, each restaurant offering their specialty.  And in addition to this dining option, there are still specialty dining options scattered throughout the ship.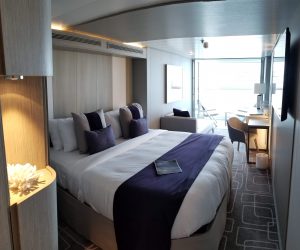 The cabins of Edge are beautiful and differ from those that cruisers are used to in the past.  Not only are the cabins elegant and modern, but also offer plenty of space, making the most of every inch that is provided.  The bathrooms are spacious, the drawers are larger than ever and the windows really allow you to take in the beauty as you sail.  For those passengers in an Infinity Veranda cabin, you will see the biggest difference from a Balcony cabin that you are used to.  Rather than offering a sliding class door to the balcony area, the new Infinite Veranda cabins give you folding doors that can be tucked away, essentially giving you all of the floor space from your balcony as extra square footage in your cabin.  The window that goes to the outside is a wall-to-wall glass window that slides down to waist level at the push of a button, allowing you to open your veranda as much or as little as you want, depending on your mood.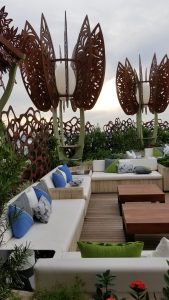 The lounge spaces on this ship are found from end to end and with each one having a different feel, you will always find the right spot depending on what you are looking for.  The Rooftop Garden is a beautiful space on the top of the ship that offers comfortable couches, beautiful wrought iron sculpture trees, a stage and dance floor and relaxed vibe for entertainment.  Eden, the jungle-feeling room has unique cocktails, interactive creature-like performers and a more sultry feel that changes as the night goes on.  The Martini Bar in the center of the ship is a lively spot that has an energy all its own and is a great meeting spot for grabbing a drink before dinner or listening to music into the evening.  The theater onboard has a modern feel and technology is incorporated into each show giving you a true sensory experience.  And with five varying productions on a seven night cruise, you are sure to find the entertainment that will send you home with a story to tell!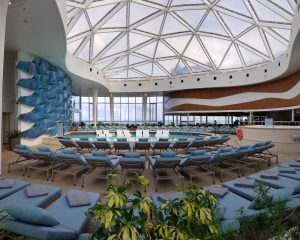 And if it is relaxation that you are aiming for, you will not be disappointed by Edge.  In keeping with the Celebrity tradition, the Solarium is an indoor space that allows you to relax while still being able to see outside.  The soothing music, the huge space, the inciting pool – everything about it makes you want to park yourself in a lounge chair and stay there for days.  Add to this the amazing spa that not only offers treatments, but gives you access to multiple saunas, steam rooms, water features and relaxation stations, you could find yourself making the most of your days at sea in just one area of the ship alone.  The state-of-the-art gym with more machines than ever, as well as the classes that are offered throughout the day will keep you fit and at the top of your game.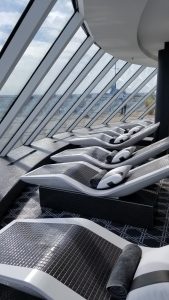 As you can tell, I could go on for days about the incredible features that Edge has to offer at every turn, but why just read about it when you can experience it for yourself?  We are thrilled to be returning to Edge this August as we sail through the Mediterranean on a nine night cruise to Italy, Spain and Monaco and would love to have you join us to live on the edge!