by Malori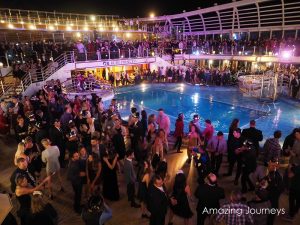 Here it is, the week of New Year's and I am at home. I'm usually working at "light-speed" finalizing logistics, programs, wrapping gifts and packing for myself and 70 others. So now I am getting a taste of just what it is that most people do over the holiday weekends of Christmas and New Years…going for walks in the snow, watching lots of movies, eating Chinese food, playing games and catching up with friends via Facetime or Zoom. It's a bit surreal for me and seems really strange for me to be here.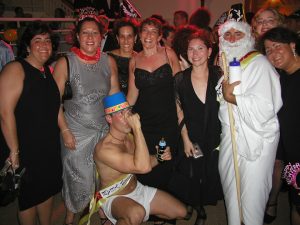 You see, it has been an Amazing Journeys tradition since 2002 to be away on a cruise for the New Year's holiday. It goes without saying, we are missing this once-a-year opportunity to sail into the new year with you, all of our friends. The planning, the excitement, the anticipation… it's all part of a normal December for me and the rest of the team here at AJ. Over the past nearly 20 years, we have traveled to close to home places such as the Caribbean, Mexico, the Panama Canal and Hawaii, and some exotic locales such as South America, India, the UAE, and Asia during this time of year. It's provided memories that are still fresh in our minds, and helps to get us through these times of this "travel black-out" we're all a part of.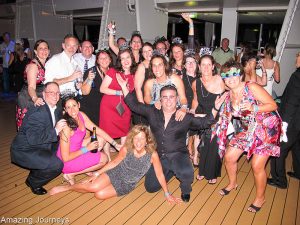 While on our New Year's Eve cruises, we always share New Year's traditions from the countries we are traveling. Since we are unable to travel around the world, at least we can celebrate as though we're traveling with our INTERNATIONAL NEW YEAR'S FUN FACTS:
NEW ZEALAND: Gisborne is 308.4 miles west of the International Date Line and thus is the first major city to see the beginning of the New Year (however it is Kiritimati, Republic of Kiribati that is the first "city" in the world to see the first sun rise for the year, and Amazing Journeys was there on New Year's Eve 2002/2003).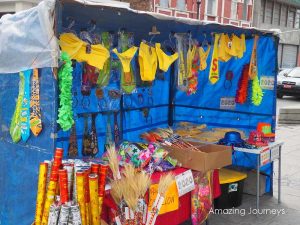 LATIN COUNTRIES INCLUDING SPAIN, MEXICO, BRAZIL, COLUMBIA, ARGENTINA, CHILE AND OTHERS: Residents of Latin American countries down a grape with each of the twelve chimes of the bell during the New Year countdown, while making a wish with each one. On New Year's Eve, women who want to find love in the New Year wear red underwear, or yellow if they want money. Other traditions include sweeping the dirt out and taking luggage outside as a symbol of future trips. (Side note – some of our travelers in Chile last year bought me yellow underwear for prosperity in 2020 – it didn't work). (And another side note – I will be walking around the block with my suitcase on New Year's Day with hopes of future travel and I hope all of you will join me on this one!).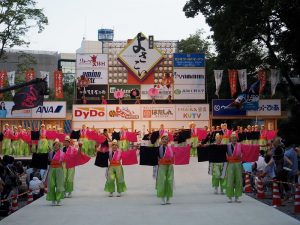 TAIWAN: The end of the year is celebrated with concerts held in all major cities. Recently, the nation has used higher technology to communicate among the cities via video, enabling the cities to count down together.
SOUTH AFRICA: In downtown Jo-burg, locals throw old appliances out the window
FINLAND: It's a longtime Finnish tradition to predict the coming year by casting molten tin into a container of water, and then interpreting the shape the metal takes after hardening.
PANAMA: Effigies of well-known people—called muñecos—are traditionally burned in New Year's bonfires in Panama. The effigies represent the old year; immolating them is meant to drive off evil spirits for a fresh New Year's start.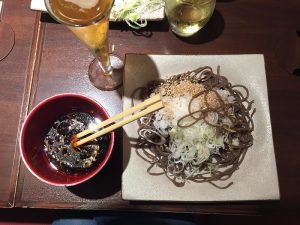 JAPAN: Many Japanese decorate their house with a New Year's wreath made from rice straw and a lucky talisman and hang it on the door. The tradition on December 31st is to eat toshikoshu soba – their long noodles symbolize a longevity and wealth. They listen to Beethoven's Ninth Symphony which is commonly associated with New Years in Japan. At midnight, the New Year is welcomed with 108 bell chimes in alignment with the Buddhist belief that this brings cleanness. It's also considered good to be smiling going into the New Year as it supposedly brings good luck.
SWITZERLAND: Ever hear of dropping a dollop of cream on the floor to ring in the new year with good luck, wealth and peace? Well that's what some do in Switzerland — it's thought to bring a year of abundance. Some Swiss also observe the tradition of dressing up in costumes to invoke good spirits and chase evil energies.
PORTUGAL: In the northern parts of Portugal, children traditionally sing carols as they visit houses where they are given coins and treats. The songs they sing are called janeiros and are said to bring good luck.
DENMARK: Danes ring in the New Year by hurling old plates and glasses… against the doors of friends' and relatives' houses. They also stand on chairs and then jump off them together at midnight. Leaping into January is supposed to banish bad spirits and bring good luck.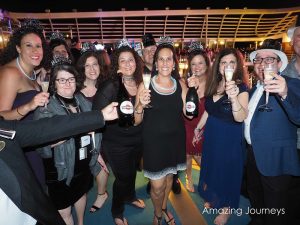 Although we'll miss traveling with you during the New Year, we hope you'll celebrate in grand style, in whatever tradition you choose. If you're home alone, dance like nobody's watching. That's what I'll be doing –wait, that's what I always do even when traveling! Just have a great time!
Wishing you a New Year filled with health and happiness and dream of the day we will traveling together again.