by Malori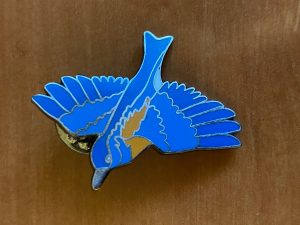 Sometimes we have the opportunity to touch lives in ways we had never imagined.
One day, while on a trip in Yosemite National Park, one of my travelers offered me a gift she had brought for me. She presented me with a pin and called it "The Bluebird of Happiness," and said, "you are like this bird, flying from place to place, spreading your wings…soaring across the universe. I hope wherever you go in the world, this brings you the happiness you deserve." It was a special moment, and one I will never forget. I put the Bluebird of Happiness in my travel bag that accompanies me around the world.
Several years later, we were traveling to the Greek Islands on a cruise. One of my travelers had been having a rough couple of years. Her beloved father had recently passed away. Her job as a nurse was challenging and because of her line of work, often brought sadness. She didn't have that "special someone" in her life. Leading up to our departure for our trip to Greece, she decided to contact one of her cancer patients, a little girl who was from Greece who once healthy, returned from the US where care was given, to her homeland. This traveler decided to contact her and try to reconnect for a visit. It wasn't easy. The patient was from another island, had to be brought to where the ship was docked, the language was a barrier, we got the Captain involved to translate and with lots of logistics to arrange and hurdles to jump, the nurse, the patient and her family were reunited. As you can imagine, there were tears of joy and happiness for all. It was the cruise of a lifetime with memories far beyond the typical travel experiences. This was a life-changing journey.
At the end of our cruise, during our Amazing Journeys award ceremony, I presented our traveler with The Bluebird of Happiness award, and gave her my special pin I had carried for several years. I said, "You realized a dream on this trip, seeing Alexandra once again. She was thriving. You did a mitzvah in moving mountains to visit with her. I hope this brings you the happiness you deserve in your life." She, along with many from our group were moved to tears.
This week, I received an envelope and in it, the Bluebird of Happiness, along with a letter of thanks. Here is a paraphrased excerpt:
Dear Malori,
I hope you are doing well. Now that I am engaged I suppose I won't be traveling with you anymore. I really never thought this would all happen for me.
I want to tell you that the happiest years of my life were traveling with you. You showed me the world and I loved each trip. And of course, going to Greece and setting to see Alexandra again was just incredible. On that trip, you gave me your bluebird pin. I was so touched by that. I have kept it safe. You told me to give it to someone but I never found someone worthy of its special meaning. I wanted to hold on to it forever but I believe it is meant for someone who travels and finds their own amazing journey as I did with Alexandra… someone extra special, with a special story. My heart told me the right thing to do was to send it back to you so that you could do just that.
I will miss traveling with you. It was the number one joy in my life. But now I have a new road to travel. I don't know how to thank you for the gift of travel and the gift of your friendship. And I will never forget that you were there for me when my dad died. You are one in a million. I thank you for all of this.
From the bottom of my heart,
Your Amazing Traveler
So pay it forward. Be grateful. Count your blessings. Cherish your family and friends.
Happy Thanksgiving!
Love,
Malori