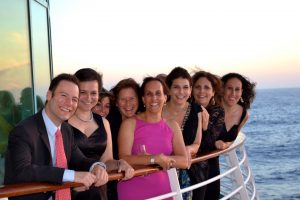 At Amazing Journeys, we love cruising for so many reasons! But if we have to narrow it down to our top five, here is what we can share:
1. Unpack once
Imagine going on a one or two week vacation but only having to unpack one time. On a cruise, that is just what happens! Your hotel floats from port to port so no need to pack up to move to the next city.
2. Cover more ground
Cruising is the perfect way to sample a region. Visit multiple countries in one trip and see the highlights.
3. Everything is all in one place
Not sure where to eat dinner? Looking for a show? Hoping to squeeze in a workout? On a cruise, everything is right at your fingertips.
4. Travel at night and maximize your touring hours
How cool is it to go to sleep in one country and wake up in a new destination? On a cruise, once you fly into the starting city, getting from place to place is taken care of and traveling hours are often at night so you can do the most in each port.
5. Shore excursion options
Want to learn the history of a city? How about hoping on a bike to explore the architecture? Or try your hand at cooking a local delicacy? Shore excursion options give you the choice of how you spend your days in each destination.
Looking to hop on your next cruise?  Check out our current offerings by clicking here!