Here at Amazing Journeys, we're lucky to have the best jobs in the world—and we think our good fortune is worth sharing. So, when your next journey seems like a distant dream, take a few minutes to explore our WANDERLUST blog—it's chock-full of engaging tales and helpful tips from our travels around the world.

Bridging Gaps
Oct 7, 2015
by Malori
The other night, we went to our synagogue to enjoy the Simchat Torah celebration. In the midst of the celebration, I noticed a visitor who I had not seen before. The guest was visiting from Punjab, a province in India. He was wearing a turban and looked unlike anybody else present. Towards the end of the evening, one of the children asked him, "are you a Genie?" He told the little girl, "yes I am. Do you have a wish you want me to grant?" She said, "Can I have some pennies?" He smiled and walked away. Ten minutes later he returned with several pennies. The little girl now believes there are Genies in the world who grant wishes!
It is a true diplomat who can bridge cultural gaps instead of destroy them. If every traveler can bring a bit of their country to share with others, imagine what we could learn. Sometimes we are the teachers. Sometimes we are the students. Keeping our eyes and our hearts open to new experiences can present opportunities we never thought possible.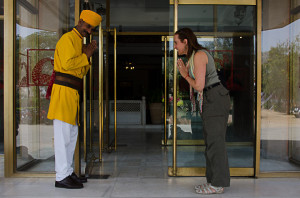 View older entries
No Comments
No comments yet.
RSS feed for comments on this post.
Sorry, the comment form is closed at this time.