Here at Amazing Journeys, we're lucky to have the best jobs in the world—and we think our good fortune is worth sharing. So, when your next journey seems like a distant dream, take a few minutes to explore our WANDERLUST blog—it's chock-full of engaging tales and helpful tips from our travels around the world.

Costa Rica-No Artificial Ingredients
Feb 17, 2011
If your idea of an ideal vacation is to enjoy a pairing of lovely tropical beaches, the grandest adventures, the wonders of nature, and a scintillating culture, Costa Rica is a place where dreams can be made. No wonder, then, that thousands of tourists have made Costa Rica their top travel choice.
Costa Rica occupies a privileged spot in the heart of Central America. While its territory of 19,652 square miles touches both the Atlantic and Pacific oceans, the country is surprisingly accessible – just a 3 hour flight from Atlanta. Its borders are protected by the US military and its inland protective services are protected by a respected and reputable police force.  Costa is not only beautiful, its smart.
Just what the every Jewish single is looking for!
A little bit of knowledge about this country is interesting…however a personal experience of this country will drop your jaw with anticipation, excitement, adventure and relaxation.  All rolled into one!
Intersecting beaches and forests
Costa Rica's beaches are surrounded by forests, and have great natural diversity and a variety of aquatic ecosystems with beautiful white and black sand beaches, ideal for sport fishing, snorkeling, and sun bathing.   In this small area of firm land, there are 762 miles of coastlines, distributed on the Pacific and the Caribbean. Costa Rican beaches allow you to sun-tan while having the additional bonus of being part of a complex pro-nature system known as the Ecological Blue Flag Award recognizing Costa Rica's commitment with sustainability and environmental protection.
Plants and animals everywhere
Costa Rica´s territory is so small that it encompasses only 0.03% of the planet´s surface but is within the top 20 richest countries in biodiversity on Earth in terms of species density. It is possible to find more species in 1,000 sq.miles in Costa Rica that in the same area in countries like Brazil or Colombia. Costa Rica has nearly half a million species, representing 4% of the planet´s expected biodiversity. Are you ready to discover it?
Costa Rica´s Marvels of Fire
As part of the Pacific Ring of Fire, Costa Rica´s volcanoes are among the most mesmerizing in the world. In fact, the present-day landmass known as Costa Rica is the result of complex volcanic activity that took place some 75 million years ago and still continues today.
Counting every location or crater where an eruption has occurred within its borders, Costa Rica volcanoes boast a stunning 112 sites throughout the country. Most Costa Rica volcanoes and their surrounding areas have been made into national parks.
One of them is Arenal Volcano, listed among the 10 most active volcanoes in the world and for a good reason: It regularly puts on a spectacle, showing off with strong rumbling sounds and occasional rock avalanches, as well as smoke, ash and lava eruptions that descend its slope at speeds reaching 70 kilometers per hour and temperatures reaching 1,000 degrees Celsius.
The mountain and surrounding area were declared a national park in 1994. Thermal hot springs are now the area's main attraction, most of which boast nearby trails and numerous lookout points.  And yes, one of the highlights of the upcoming Amazing Journey for Jewish singles in their 30s, 40s & 50s is a three night stay at the Tabacon Resort at the base of the Arenal Volcano.  To say it's a highlight, is an understatement
The Biggest Rainforest in Costa Rica
La Amistad International Park (PILA) is the biggest natural park in Costa Rica covering a great variety of humid, rain and cloud forests in the Pacific and Atlantic sides, as well as indigenous reserves.
The Talamanca region, a big portion of the park, was a refuge in colonial times for indigenous people who were resilient from the Spanish colonizers' repression. 
The enormous cultural richness and extraordinary natural habitats, result of different altitudes, soil and microclimates, was the reason why the park was also designed Biosphere Reserve and World Heritage Site.
Species in great danger of extinction such as the jaguar, the largest feline in the Americas and third largest world-wide, live in the park as well as a great variety of wildlife, which includes 400 species of birds, 263 species of amphibians and reptiles and 213 of mammals. Many other species are found only in this giant rainforest.
The Canopy Tour, Originally from Costa Rica
Born in Costa Rica in the 90s, the canopy tour is the closest experience to enable one to feel like a monkey travelling in the tree tops. It is also one of the best ways to explore the richness of the canopy, where the biggest amount of the forest's biodiversity is found, and to raise awareness about the rainforest's fragile ecosystem.
It consists of a series of suspended cables attached from tree to tree on which you can glide along using a pulley that is secured to the harness. Cables vary in length (they can measure even 700 meters long!) and end in small wooden platforms built in the tops of trees, which are located up to 100 feet above the jungle floor. The impact to the forest is minimal.
The canopy tour has been adapted to a great variety of environments and landscapes within the country, including mountains, canyons, rivers, waterfalls and cloud, dry and tropical forests. The tour has also been exported to other Latin American countries such as Jamaica, Mexico, Nicaragua, Guatemala and Belize.
Nature on the skin
Imagine if the delicious cup of coffee, the freshly made piña colada, the aromatic essences that give flavor to your salad or even the fragrance of the wild flowers which you breathe, could be part of your skin. Mixing these ingredients within various health, relaxation and beauty treatments is possible in Costa Rica.
Situated throughout the territory are locations that are also home to many diverse spas that strive to offer a holistic service of international quality and to do it with the warmth and personalized attention of the Costa Rican people.
If you add a never-ending source of certified natural produce, creativity and knowledge, you will end up with an array of benefits to replenish your skin. These products can improve health, calm emotions and truly work their magic while used for massages at the able hands of local therapists.
These healing ingredients include coffee, brown sugar and even coconut. They may be used to exfoliate your skin and help it eliminate dead cells and toxins, or they may improve blood circulation and allow positive energy to flow throughout your body. One way to do it is by enjoying the ever-popular body wraps, in which volcanic mud, jasmine, mint or tropical fruits are used to hydrate and replenish the skin while also nurturing it with vitamins and minerals.
Specially designed healing rooms provide an ideal climate – one enriched by stimulating decorations, soothing music and ambient sounds from nature, sea or forest animals – in which one may enjoy a therapeutic experience to be shared even with couple, friends and family.
Birds that cannot go unnoticed
Its plumage is mostly scarlet but its tail-covered feathers are light blue, making the Scarlet Macaw one of the most beautiful birds of the American tropics. In fact, with almost 1 meter in length, more than half constituted by its pointed striking tail, this bird cannot go unnoticed, especially because they are often seen in pairs. A number of couples may even congregate with others to form a flock of several hundred individuals: a spectacle that is impossible to forget when they fly above the forest canopy.
One interesting thing about Macaws is the use of beaks as an aid in both eating and as a "third foot" when climbing. The beak is strong to crush seeds and nuts, while the thick fleshy tongue is used to move the food around.
Another bird worth keeping your eyes peeled in the trees for is the Toucan. The colorful, giant bill, which in some large species measure more than half the length of the body, is the hallmark of toucans and to see this swift flyer swoop among trees is a sight to behold only in Costa Rica.
The most amazing journey across the Americas
Every year, millions of migratory species, whether by water, land or air, travel enormous distances over the American continent, some of them arrive in Costa Rica, in search of better climatic conditions, more abundant food or a suitable site for reproduction, which generally coincides with the warmer season. These odysseys are not exempt from great challenges; some species travel up to 20,000 miles round-trip.
This happens with species of whales, bats, birds, fish, sea turtles and even insects like the monarch butterfly. Most flee the North American winter to seek food in the southern part of the continent, and then return to their feeding grounds in the north when their favorite foods sprout anew in the spring.
Very small species like ruby-throated hummingbirds which measure only 10 cm, fly non-stop for 26 hours from Canada and the United States to Central America at a velocity of 28 mph for a voyage of 652 miles that even includes crossing the Gulf of Mexico. And if the blackpoll warbler only 13 cm long, were to burn gasoline instead of body fat, it would get 715,852 miles per gallon.
But the most extensive individual migration known for a mammal was that of a humpback whale initially spotted off the Antarctic Peninsula and then seen off the Santa Elena Peninsula of Costa Rica, for a total trip of 7,130 miles
Want to see it for yourself?
Join other Jewish singles from across the US (and beyond!) for a thrilling Amazing Journey to rainforests, cloudforests, jungles, beaches, and active volcanoes. We'll take you on the path less followed to view strange and magnificent wildlife in their natural habitats, to swim in protected pristine waters, to delve into adventures you've never imagined, and to "chill" in nature's wonderland of hot springs and mineral pools created by the biodiversities surrounding the country.  All this plus a group of Jewish Singles from all over North America and beyond, who await you in magnificent Costa Rica. Contact Amazing Journeys for details: www.amazingjourneys.net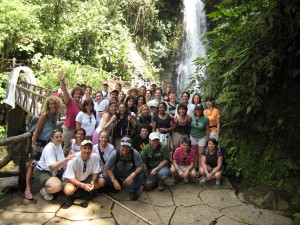 View older entries
No Comments
No comments yet.
RSS feed for comments on this post.
Sorry, the comment form is closed at this time.