Here at Amazing Journeys, we're lucky to have the best jobs in the world—and we think our good fortune is worth sharing. So, when your next journey seems like a distant dream, take a few minutes to explore our WANDERLUST blog—it's chock-full of engaging tales and helpful tips from our travels around the world.

Heli-hiking in the Bugaboos
Jul 14, 2011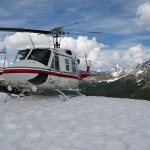 It's easy to get energized from the mountains.  Enjoying the smell of the mountain air, feeling the cool breeze that comes directly off the glaciers, the chance of an animal sighting – whether a bear, moose, elk, mountain goat or cougar.  Imagine combining the enjoyment of hiking in the majestic Canadian Rockies with a twist – taking a helicopter to the tops of mountains and glaciers, where you are surrounded by lakes and streams, meadows and rock formations.  It's called heli-hiking and it takes hiking to a whole new level.
The liveliness that comes from this type of experience is unmatched anywhere.  We arrived at the lodge after a two- hour drive from Banff in Alberta, where we drove into British Columbia.  We arrived at the heli-pad where we were wisked away to our lodge, embedded deep into the hillside with nothing around but glaciers, mountains, meadows and trees.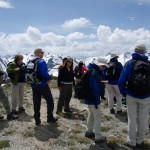 Once we arrived at the lodge, we were shown to our rooms and fitted with hiking boots, backpacks and outerwear.  You can show up at the lodge with little more than a few items of clothing, and outfitted with the rest once you've arrived.  After meeting out guides, getting a briefing on helicopter safety and having a hot lunch, we were off for our first hike.  We were placed into several groups, depending on your level of fitness the kind of hiking you wanted to do.  Our helicopter swooped down to pick us up, and deposited us on top of a mountain peak.  From here, we walked along the ridge and down the side of the mountain.  Through snow covered peaks and wooded mountainsides, we worked out way down until we again met up with our helicopter, three hours later.
Once back at the lodge, we enjoyed our surroundings and walked around the property and adjacent area…a lake, a stream, a cabin and a glacier.
Our 28-room lodge is equipped with family style dining (with great food!), a bar, a living room where guests gather to socialize and relax, a hot tub, Jacuzzi, steam room, exercise room, an indoor rock climbing wall, a laundry and even wifi!
Anyone interested in a heli-hiking amazing journey?
View older entries
No Comments
No comments yet.
RSS feed for comments on this post.
Sorry, the comment form is closed at this time.