Here at Amazing Journeys, we're lucky to have the best jobs in the world—and we think our good fortune is worth sharing. So, when your next journey seems like a distant dream, take a few minutes to explore our WANDERLUST blog—it's chock-full of engaging tales and helpful tips from our travels around the world.

Memoirs of a Journey Down Under
Nov 24, 2010
Dear Mom and Dad, 
Well, our Australian Down Under Tour is almost over and I'm very sad to see it end.  Like a huge meal for the whole family over Thanksgiving, it seems that after months of planning and gearing up, it's all over in a blink.  Still…it's been a truly "amazing journey" in every sense of the word.  Every day was the best day of the trip so far.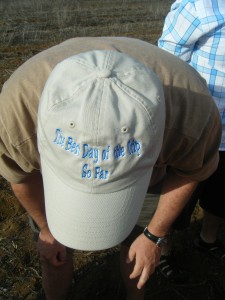 After I flew to L.A. and met our group leader Bill and all the other travelers, we had the loooooongest journey of the trip so far…but it wasn't really that bad.  We were on Qantas' new 380 mega jet liner and it was very modern and not too uncomfortable.  That is, until we heard a few days later that pieces of our jet fell from the sky over Singapore….soooo, we'll be flying home on something a bit smaller. On the flight I caught up on a few good books, watched 27 episodes of "How I Met Your Mother", and even watched us take off and land from the plane's "wing cam". Ambien helped too, and I did my best to sleep like a baby for 6 hours…in the full upright position!
When we landed in Melbourne we were met by our Tour Manager Barry and the fun began.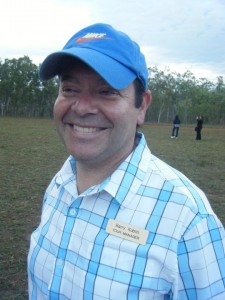 I had no idea on that first day just how much fun Barry would be, but his personality and "behind the scenes" organizational skills would ultimately make the trip seem flawless.  Thank goodness our rooms were ready, so I freshened up and then headed out for a little exploration before we got to know the group a little better at our formal welcome program and dinner. Then the jetlag kicked in, and bed in the fully downward prone position was a welcome reprieve.
 Our first tour the next day immediately made the long journey around the world worth every minute it took us to get here.  We headed outside of the city to the You Yangs National Park and the Serendip Sanctuary for a little safari of sorts, searching and viewing kangaroos and koalas.  I'd dreamt for years for the chance to see kangaroos and koalas in the wild, and just reliving it right now is giving me goose bumps.  We walked among them and were sometimes so close that we could almost reach out and touch them.  Our outback guide, Janine was so passionate about these creatures and her zeal made the day even more fun and I have to say that this was one of the highlights of the tour.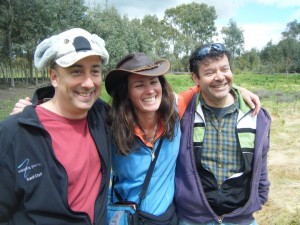 And it was only the first day!!
The rest of our time around Melbourne was filled with seeing the city; a bustling cosmopolitan with a buzz for food, history, architecture and a gutsy party atmosphere surrounding The Melbourne Cup horse  race that would parallel a week long New Year's celebration.  You should have seen these getups–especially the hats!
 I loved Melbourne and all its energy, but the city soon gave way to more best days of the trip so far. About as big a contrast to the big city as we could get, arriving into Ayers Rock was like a time warp.  In a matter of a few hours, we went from a developed metropolis to an ancient monolith surrounded by desert. This was the true Outback.  Sure we had to survive some death defying turbulence on the flight over…but we were hundreds, if not thousands of miles away from any modern civilization. Human existence in this part of the world consisted of our small resort town built for tourists and Aboriginal villages that dotted the outback throughout the continent. 
 So here we were in the outback.  I…was….in…..The Outback! I couldn't believe it.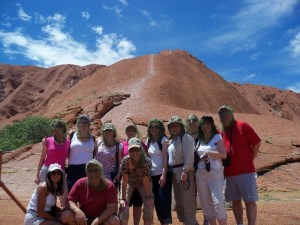 Our first order of business was a Shabbat Service.  Bill somehow managed an Outback Challah and after a short but very meaningful service we hamotzied, kiddushed….and then headed off to what they call The Sounds of Silence.  I have to admit that I didn't know what to expect at this event, but I have to say it was one of the top memories of the entire tour.  We were taken to a small hillside overlooking Ayers Rock for champagne during sunset…and then led down a path to a small cutout in the desert where a catered setup of tables and food awaited.  We were surrounded by nothing but rocks, desert, sand and bush.  If it weren't for the setup of tables and food, I would have felt like I was in the middle of nowhere, never to be found again.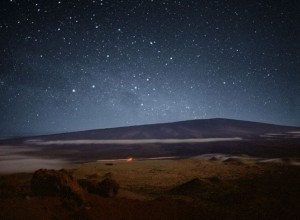 As the sun set and darkness loomed, soon only the candles and burners illuminated our place on this part of earth. Oh, and yes, the stars!  First I saw 'em, but didn't really notice them…until the true meaning of The Sounds of Silence took hold.  But, first as with all good Jewish functions….the festive meal!  We dined on crocodile, barramundi, kangaroo, lamb, and a variety of other local delicacies.  We also inadvertently dined on some of the local flying critters too…who, although uninvited, chose to stay with us for the duration of the evening, despite the cries and screams of protest from a jittery few.
A didgeridoo player harmonized our experience and chit chat among the participants filled the air…until dinner was over and the true sounds of silence took hold.  We were given a moment of silence, so to speak, to take in the essence of the outback.  Some dude at another table tried to ruin the moment but he didn't. The lights were turned off and it was so dark that that only the stars in the sky could be seen. Billions and billions of stars…constellations, shooting stars, planets and an endless plane of the universe.  Wow, was that special!  Then, our gastronomical experience turned into an astronomical experience as we followed an articulate astronomer through a passionate and story-filled tour of the sky.
After dessert in the desert, our sounds of silence experience was over, and it was time to look ahead for more fun things to come.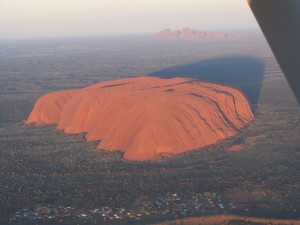 When daylight hit–well, more like BEFORE daylight hit–we headed to the friendly skies for a flight seeing tour over Ayers Rock and the Olgas.  We had two of the cutest…and youngest…pilots I'd ever seen.These two dudes learned to fly before they learned to drive, but our lives were in their hands as they were the ONLY 2 flightseeing pilots in Ayers Rock.  But they were awesome. Young, fun, cute yet very professional and great guides as we viewed the incredible rock formations from a few thousand feet above.
The rest of our time in Ayers Rock was devoted to touring the rock, hiking the Olgas and hanging out at our gorgeous oasis in the desert. 
We also had a really fun dinner cooked by Bill and Barry on the "barbie" before calling it a day and heading off to Cairns and the Great Barrier Reef.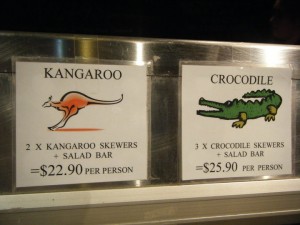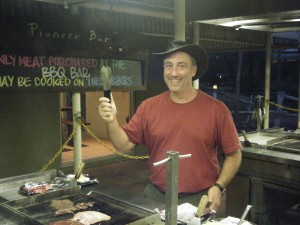 Our first day in this tropical beach town involved the earliest wakeup day of the trip so far, for an amazing sunrise hot air balloon ride over the plains and small communities of Cairns.  A team of 5 balloons sailed high in the sky which was a sight to behold in and of itself.  From our koala balloon we saw mobs of kangaroos, said hello to one of the neighbors from high above her rooftop and even saw our reflection in the river below.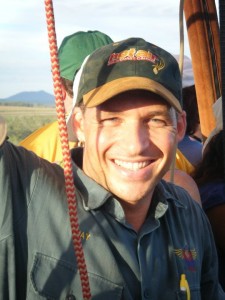 Our pilot Jay was hot…and I'm not just talking about the fire he used to fuel the balloon.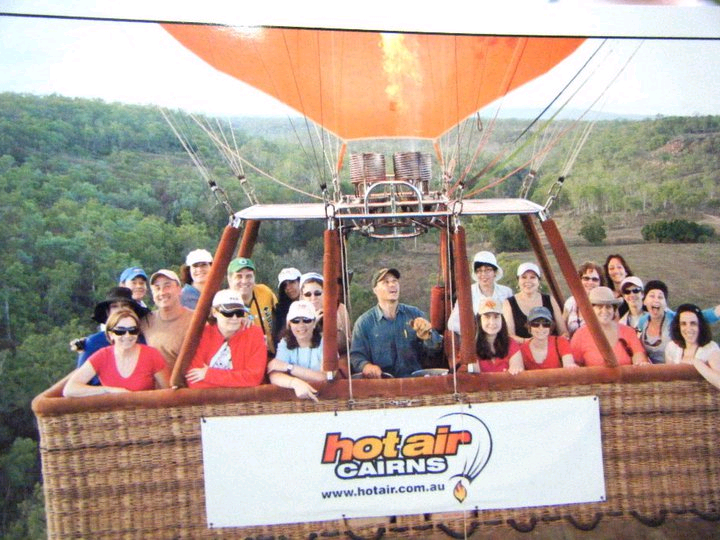 After we came back to earth and helped the crew let all the air out of the balloon we were treated to a champagne breakfast before heading down to the water for our excursion to The Great Barrier Reef.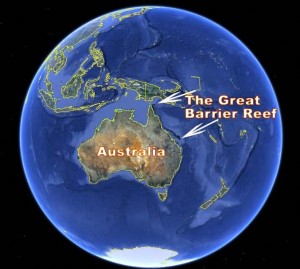 Wow…first kangaroos from the sky, then fish and turtles and coral from under the sea.  My new friend Jen and I even saw a shark swim right by us! The lunch on Green Island was NOT the best meal of the trip so far, but the time on the beach, snorkeling in the water and taking in a small part of one of The Seven Natural Wonders of the World made this day befitting to the premise of "living life to the fullest". 
Like a great meal, a scrumptious dessert is the perfect compliment to the experience. The perfect dessert to this incredible day was given to us upon arrival back on land when we went over to the Cairns Wildlife Nature Dome for the chance to hold a koala in our arms.
I only got to hold him for about 30 seconds, but the feeling of his little paws around my arms will stay with me forever.
We spent a day in the Daintree Rainforest area where we had the most special opportunity to feed kangaroos and wallabies, hold another koala and see really up close and personal a variety of other indigenous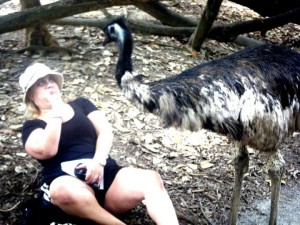 wildlife. We even took a cruise on the Daintree River where learned about the mangroves, crocodiles and other living creatures that make up this ancient ecosystem.
Our final day in Cairns was really fun.  First we had a little retail therapy in an artsy village called Kuranda and then we hopped aboard this amazing gondola called the Kuranda Skyrail that took us high above the Kuranda rainforest.  This skyrail is the 2nd longest such gondola ride in the world and it was way cool being so high above the treetops.  We even saw cockatoos flying below and resting on the tree limbs. 
Once we landed, we walked among the Aboriginals.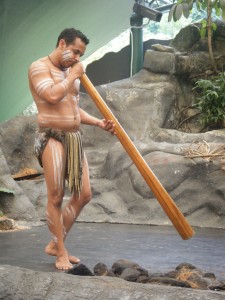 We painted our faces, learned to throw a boomerang, played a didgeridoo and even had a few laughs as Bill and Laura danced like no one was watching on stage with the Aboriginals.  A little more retail therapy in the gift shop and it was time to go.
 Time to go to Sydney!
Mom, Dad..while I've been expressing my love for each of the elements we shared throughout Australia, nothing could have prepared me for how much I fell in love with the city of Sydney.  Bill told us early on that it was his favorite city on earth and now I see why. Magnificent, majestic, eclectic, fun, friendly, romantic, entertaining…the adjectives could go on forever and ever.  We toured the Opera House, climbed the Harbour Bridge, strolled Bondi Beach and toured The Great Synagogue.  We partied with the locals, met some fascinating people, dined with the most exceptional views and well, yes….shopped just a little bit more.  You could plant me on Bondi Beach…or on a chair near the Sydney Harbour….or just leave me wandering aimlessly anywhere in the city, and I'd be a happy boy no matter where or what I was doing in Sydney.  My goodness….I loved Melbourne and Ayers Rock and Cairns, but every day in Sydney was the best day of the trip so far.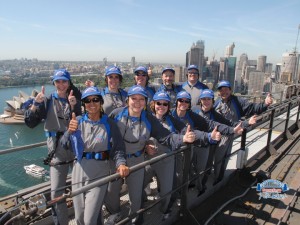 I overheard someone in my group say today, "I've never said the word "amazing" so many times in two weeks as I have here in Australia. In all honesty, Mom and Dad, Australia truly is a wonderland of amazing people and amazing things to see and do.  It's now in my memory…but it is forever in my heart and soul. 
I have met some great new friends, I have seen breathtaking scenery, I have had an adventure like nothing I've ever had before…and it truly has been a most amazing journey.
I can't wait to come home and share my pictures with you…and to relive the memories with my new friends who shared this experience with me.
 See you very soon,
 Love,
Me
View older entries
No Comments
No comments yet.
RSS feed for comments on this post.
Sorry, the comment form is closed at this time.