Here at Amazing Journeys, we're lucky to have the best jobs in the world—and we think our good fortune is worth sharing. So, when your next journey seems like a distant dream, take a few minutes to explore our WANDERLUST blog—it's chock-full of engaging tales and helpful tips from our travels around the world.

No more security lines
Sep 11, 2013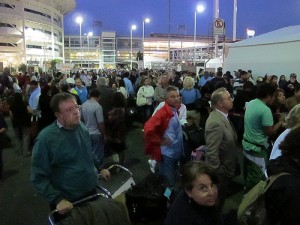 -by Erin
In addition to taking the guess-work out of your travel arrangements, we are happy to share information to help you make the travel process as fast and smooth as possible.  Most of your vacations include a plane ride (or 2 or 3) and with increased safety precautions, security now takes longer and longer.  Not for long – enter Pre-Check!  Pre-Check is a special quick security line that allows you to breeze through while keeping your shoes and belt on, your liquids stored away and your laptop snuggly in your carry-on. How nice is that?
There is an application process but we think it's worth the work upfront, knowing how much time it will save at the airport. And now, the TSA is expanding its speedy Pre-Check screening program to 60 more airports, in addition to 40 where it was already available. The new airports should have the expedited checkpoint lanes by the end of the year – Click here to see a list of airports that now have Pre-Check.  There is a one-time fee of $85 for five years, to cover a background check and fingerprinting. Click here for more information on Pre-Check.
View older entries
No Comments
No comments yet.
RSS feed for comments on this post.
Sorry, the comment form is closed at this time.