Here at Amazing Journeys, we're lucky to have the best jobs in the world—and we think our good fortune is worth sharing. So, when your next journey seems like a distant dream, take a few minutes to explore our WANDERLUST blog—it's chock-full of engaging tales and helpful tips from our travels around the world.

Our recent tour to Italy was packed full of pleasures and treasures!
Jun 24, 2013
by Malori
The images of Italy in one's mind are as different as the individual themselves. One may visualize a Tuscan villa set amongst gently rolling hills covered with vineyards and lavender, some picture the greatest art treasures such as Michelangelo's "David" and fresco covered cathedrals, others see an outdoor café where locals are sipping cappuccino, and some imagine themselves shopping for some of the world's best leather shoes, handbags and gloves, or amazing ceramic pottery, high fashion or Murano glass. Italy is all this and more!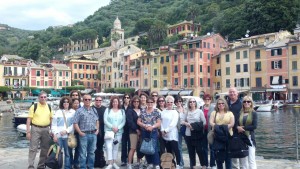 Last week, 21 Amazing Journeyers returned from an experience in the Northern Italian countryside, cities, villages and lake districts. We experienced Italy "off the beaten path" as we visited such amazing places as Stresa on Lago Maggiore; Lucca, Siena, and Florence, all in Tuscany; Bologna and the always fascinating city of Venice.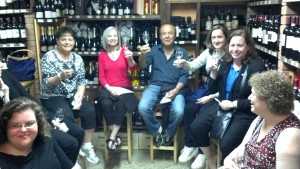 We began the tour with a tasting event with vintage wines and aged balsamic vinegars from Rosario, a local woman who has experienced life in Italy from the time of WW II to today, as she shares her passion and knowledge of the foods, spices and wines of Italy. That was only the beginning of more surprises we had in store for us on our journey.
One of the highlights for many of the group was our day spent in a Tuscan villa where we had a cooking class and got our hands into the pasta, which we then rolled out like pros and enjoyed at lunch. We watched a demonstration by our personal chef of a fabulous dessert, which we also enjoyed later, along with the wines we saw them make and then tasted.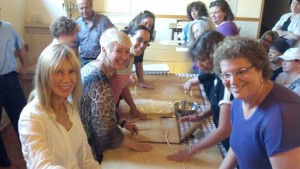 Tasting the meats of Bologna (I searched for the statue of Oscar Mayer but he was nowhere to be found!) and the cheeses of Parma were unparalleled. Along with wines, our tour of Bologna was nearly complete. We also saw the University of Bologna where the oldest Torah scroll in the history of the world was just found and dated. It had been in the library there for centuries!
Walking tours of Lucca, Siena, Florence and Venice provided us the insight to experience the rich history of the people of Italy and their culture. With lots of free time in each, we filled our days with exploration, shopping and photography, along with enjoyable lunches in some of the best Trattoria's, where "Mama" still does the cooking.
Portofino and the Cinque Terra were enjoyed by the entire group. Five fishing villages spread out along the Ligurian Coast as they have been for centuries, connected only by train. Some in the group visited two villages, others three and a few saw four villages. This was true and untouched Italy.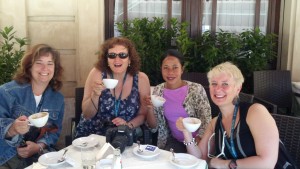 Many in the group vowed to taste the flavors of Italy on a daily basis: some swore to have a gelato every day, others began each day with a cappuccino, some decided to have a pizza-a-day, while others honed in on wine each and every day. Whether your passion was tasting the unusual or comparing the typical, none of us went home disappointed. The foods and wines of Italy are always amazing!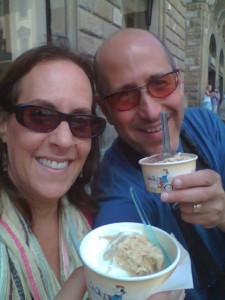 For those who just returned from our Italy's Treasures tour, your experiences will provide memories you will never forget. If you are heading to Italy with us on our Cruise the Med trip next month, get ready for an opportunity to fill your senses with amazement! Our advise to you—leave room in your suitcase…you'll be coming home with lots of new-found delights!
View older entries
No Comments
No comments yet.
RSS feed for comments on this post.
Sorry, the comment form is closed at this time.