Here at Amazing Journeys, we're lucky to have the best jobs in the world—and we think our good fortune is worth sharing. So, when your next journey seems like a distant dream, take a few minutes to explore our WANDERLUST blog—it's chock-full of engaging tales and helpful tips from our travels around the world.

The Majesty of the Canadian Rockies
Jul 11, 2011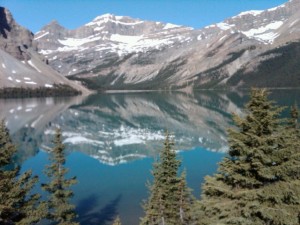 I came to the Canadian Rockies with high expectations.  For over 30 years, I have wanted to travel here…ever since I saw my first brochure of the area, filled with photos of majestic snow-capped mountains towering over lakes with the bluest water you can imagine.  The Canadian Rockies as a destination was at the top of my "bucket list".   Those who had traveled with me on Amazing Journeys always asked, "if you could go anywhere in the world, where would it be?"  My answer, for the past 30 years has been,  "the Canadian Rockies".
This past week, 40 travelers and I ventured into Alberta, Canada, the Wild West.  We arrived in Calgary and headed north to Banff.  Our castle- like hotel was situated right in Banff National Park, on a hilltop overlooking a river and a waterfall, and sat below high granite mountains.  We were nestled in between natures beautiful landscape – just as those travel brochures had portrayed it, all those years ago.  We explored the area from horseback below and from a gondola high above.  It was beautiful from every angle.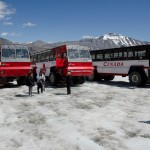 We left Banff and headed west to the Columbia Icefiends Parkway where we discovered a glacier that we could walk on!  Our "glacier busses" put us right on top of an actual glacier, where we could walk around, and drink glacier water from a river that ran through the face of the glacier.  It was amazing!
We arrived in Jasper National Park and stayed at the historical Jasper Park Lodge.  It felt just like summer camp.  Our "cabins" were scattered all around a lake.  The lake was crystal clear, and some of us walked around the 2.5 mile circumference.  Standing at the pier, you could see all the way down to the bottom.  It was like glass, with a reflection of the mountains every where you looked.  Geese and ducks enjoyed the calm surroundings, as did we!  Some hiked, some went on a float trip down the river and some enjoyed a peaceful cruise to Spirit Island on Maligne Lake.  In the evening, we enjoyed a wildlife specialist who taught us about bears, moose and elk and brought us antlers to hold and replicas of actual bear feet that were so huge, we decided that we never want to be up close and personal with a grizzly!
Driving back across the Columbia Icefields Parkway, we stopped first at a lake with green water, then one with turquoise water.  Amazing and unbelievable.  I had always thought that the photos in the brochure must have been touched up and that they were a little over zealous in their coloration process.  These lakes are real and have so much color you can hardly imagine!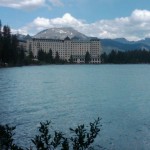 We arrived at Lake Louise and were overwhelmed at the Chateau Lake Louise Hotel which was constructed at the turn of the last century and is so palatial!  We dined at the Fairview Restaurant, where Prince William and Kate dined together just one night before.  The scene over the lake from the restaurant was magical.  We were looking out over a glacier, right in front of us.  Most of us took a two mile hike around the lake and were closer to the face of the glacier.  It was a scene out of a fairy tale and took our collective breath away.
Our last stop on the tour was Calgary, and we were treated to the famous Calgary Stampede, a once-a-year event where Calgary becomes a town filled with cowboys, rodeo and country music.  Upon our arrival at the Stampede Grounds, we were each given a cowboy hat and went to the rodeo!  Bucking broncos, bull riding, rope tying…we all got a good cowboy education.  We rode amusement rides, listened to music at the Nashville North Tent, and visited an Indian Village.  We saw baby pigs, giant Clydesdale horses and learned about agriculture.   That night we switched gears and went to Temple Tikva where we enjoyed Shabbat services with the local community.  It was a real treat to be invited to this warm and welcoming synagogue.  The next day we went back to the Stampede grounds where we saw Chuckwagon Races and the grand finale, the famous Grandstand Show.  This was one of the best shows anywhere, ever!  A combination of Circ du Soliel, the Muppets and Hollywood, combined with a horse or two, a marching band and a comedian.  And fireworks!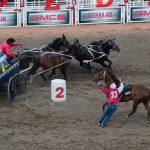 But the best show of all was the beauty of nature.  After waiting 30 years to see the wonders of the Canadian Rockies, high expectations and all, I was not disappointed.
View older entries
No Comments
No comments yet.
RSS feed for comments on this post.
Sorry, the comment form is closed at this time.