Here at Amazing Journeys, we're lucky to have the best jobs in the world—and we think our good fortune is worth sharing. So, when your next journey seems like a distant dream, take a few minutes to explore our WANDERLUST blog—it's chock-full of engaging tales and helpful tips from our travels around the world.

Travel is an Art
Nov 1, 2017
by Malori
If travel is an art, then my mom was an artist.  And a storyteller.  My Mom was always up for an adventure and never missed an opportunity to travel, be it near or far.  I guess that's where I get it from.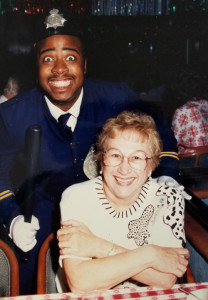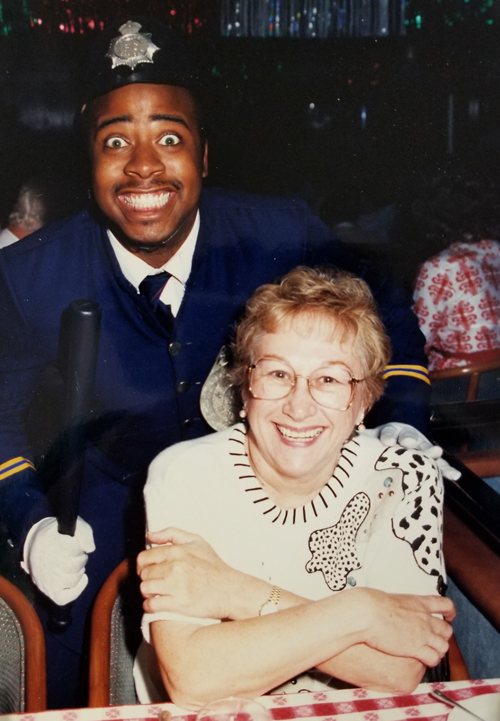 One of her best travel stories came from the time my Mom took a trip to Europe with a girlfriend when I was in high school.  Her friend had business there and she and my Mom had several trips planned over the next few years.  They were like the "Lucy and Ethel" of travel, or was it "Thelma and Louise"?  Lots of amazing stories came out of those trips. My favorite comes from a trip through Central Europe.  After the business portion of the trip was behind them, my Mom's friend, Cherina, had wanted to visit the graves of her parents in the former Czechoslovakia.  They had done their research and found that no visas were needed (there was no internet back then, but she made the proper calls).  As the rules were changing often in the 70's for the countries of Central Europe, by the time the train got to the border of Czechoslovakia,  a border guard with a dog came onboard the train and asked to see their passports and visas.  Cherina explained to them in her best Czech that she had understood no visas were needed.  In two minutes they were off the train and in a local jail at the border, being told they needed to spend the night and that a train would be coming in the other direction tomorrow and they could board then after spending the night in the jail.
With no options in sight, the two quickly went into action.  They took out the little blanket they had stored away in their overnight bag (did I mention it was from KLM, lifted from their flight over to Europe?) and laid it out while taking a huge lunch spread out of their bag (did I also mention that they would embarrassingly pack an entire lunch from the breakfast buffet at the hotel each morning?) and began their "picnic" in the jail cell.
A local man came by to say hello to the local jailer, just as the picnic was getting underway.  My Mom, always the social hostess, offered some delicacies and fun conversation, and before they knew it, the local man had invited my Mom and her friend to his local farmhouse just down the road, to spend the evening with he and his wife for dinner and a good night sleep before the train came back to pick them up the next day.  The jailer agreed and the jailbirds were free!  Just like that!  And just as my Mom had taken the blanket from the airplane and lunch from the breakfast buffet, she had no qualms about taking the key to the jail as a souvenir on her way out.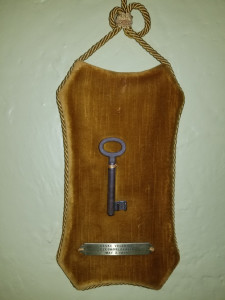 The key hung proudly in our home as a remarkable testament to how two women traveling through Central Europe on their own in the early 70s could both find their way into and out of trouble, and how travel was always an adventure, whether planned for or not.
That story helped set the stage for me and my travel career, and taught me many lessons including thinking on your feet, always be friendly, check and double check visa requirements, and unlike my Mom, never take lunch from a hotel's breakfast buffet (you've only paid for one meal) or blankets from the airline (I was always embarrassed by both).
My Mom passed away just a few months ago.  Not only do her wonderful stories live on, but the plaque with the key now proudly hangs in my home as a reminder of when things go wrong, find a solution.
View older entries
No Comments
No comments yet.
RSS feed for comments on this post.
Sorry, the comment form is closed at this time.





Jewish Italy Australia / Pacific Taj Mahal Memories passport Europe Jews culture Spain adventure history Vacation Peru Antarctica photography Amazing Journeys summer Wildlife Travel Canadian Rockies Armchair tour airport Travel Tips COVID-19 airplane shopping Great Barrier Reef world traveler Hanukkah China gifts Group Travel singles Jewish Singles Asia India Africa TSA Cruise Singapore tourism Costa Rica Alaska New York