Here at Amazing Journeys, we're lucky to have the best jobs in the world—and we think our good fortune is worth sharing. So, when your next journey seems like a distant dream, take a few minutes to explore our WANDERLUST blog—it's chock-full of engaging tales and helpful tips from our travels around the world.

Cairns
Nov 11, 2010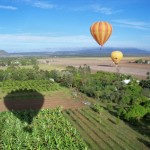 We experienced the best travel day ever!  We headed out in the wee hours of the morning for a hot air balloon ride over the city of Cairns. We lifted off in the balloons just as the sun was gently rising to unveil the surrounding beauty.   After the flight, we came back to earth for a champagne breakfast!  Later, we boarded a high-speed catamaran for an exciting excursion to the Great Barrier Reef.  From our base on Green Island, we were able to explore the reef and see beautifully colored fish swim by in their natural habitat.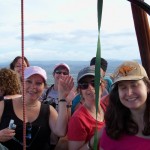 The next day, we explored the rainforest, rivers and beaches of Daintree and Cape Tribulation. We joined a wildlife cruise through the mangroves and rainforest wilderness, and looked for crocodiles, pythons and flying foxes.  We met up with a botanist who guided us on an interpretative walk through the rainforest.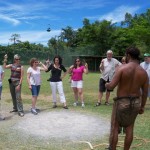 On our last day in Cairns, we  experienced the beauty of Far North Queensland's World Heritage Rainforest as we traveled on the Kuranda Skyrail – the world's largest gondola railway.  We rode above the canopy of the tropical rainforests of the Barron Gorge National Park.  Then we experienced the unique lifestyle of the Aborigine people with a visit to the Tjapukai Aboriginal Cultural Center.  We witnessed an Aboriginal dance show, learned about the Aboriginal life style, learned to throw a boomerang and to play a didgeridoo, a traditional instrument.
We're on our way to Sydney…more later!
View older entries
No Comments
No comments yet.
RSS feed for comments on this post.
Sorry, the comment form is closed at this time.