-by Erin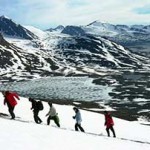 Since we announced our cruise to Spitsbergen, we have had people calling and asking: What exactly is an Arctic Expedition Cruise?  Where is Spitsbergen?  Why would I want to book a trip to the Arctic when I have a foot of snow in my back yard?
We thought it might be helpful to hear about the adventure first-hand.  Read the article below to learn more about what exactly you will encounter on an Arctic Expedition Cruise and you'll see why you should consider joining us on this truly once-in-a-lifetime experience!
Click here for more information on our awesome expedition to Spitsbergen – only 3 cabins remain!

An Arctic Expedition Cruise: What to Expect
by Nellie Huang
I've dreamt of going to the Polar Regions ever since I got bitten by the travel bug: the idea of entering one of the most remote parts of the world, coming face to face with wildlife, trudging on ice was intoxicating. So when I was setting off on my Arctic expedition, I had a whole world of expectations.
The Arctic definitely did not disappoint. The wildlife encounters we had, the thrill of hiking on glaciers, the sensation of swimming in Arctic waters and the stimulation provided by the stunning environment – all made it one of the best trips of my life.
Sure enough, an Arctic expedition might not be for everyone. There are those who prefer independent trips to guided tours and those who'd rather stay in the warmth of the cruise then venture out into the cold, choppy sea. For those who are considering going on an expedition cruise, this might help you make your decision.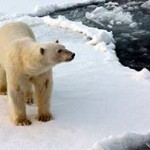 They are worlds apart. If you're worried about environmental impact, you'll be glad to know an expedition cruise is much smaller than a holiday cruise, G Adventures' M/S Expedition ship takes up to only 120 passengers. Only expedition cruises provide educational lectures conducted by experts onboard, each of them specializing in a different field. Onboard an expedition cruise, passengers also get to receive daily expedition reports and wildlife lists.
Independent travelers who are used to exploring on your own should know that due to safety reasons, passengers are asked to follow behind the expedition leader/guide at all times. There is a strict protocol to this, and for good reasons, as polar bear attacks in the Arctic are not uncommon. That said, for those who are worried about safety, rest assured that safety is the priority of these expeditions and plenty of precautions are taken by the team to make sure the trip goes smoothly.
From previous expedition experiences, I was expecting to go on long day-hikes or landings that would last more than half a day. But as mentioned above, hikes in the Arctic are limited to short walks of not more than three hours due to safety reasons. Each time we did a landing, the expedition team had to spread out and enclose a perimeter and not to mention, carry a rifle with them, to ensure our safety.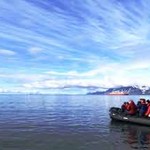 Travelers who go on such expedition cruises tend to be adventurous, responsible travelers. There is a wide range of people who come onboard: from retirees to young outdoor travelers to adventure-seeking families. I thoroughly enjoyed meeting people on the cruise, many of whom were solo travelers like me. Some of us have become lifetime friends and we're already planning our next expedition cruise together.
So if these information about the Arctic expedition cruise fall within your expectations, then don't hesitate – it's time to make that dream come true.
Original source: G Adventures