Here at Amazing Journeys, we're lucky to have the best jobs in the world—and we think our good fortune is worth sharing. So, when your next journey seems like a distant dream, take a few minutes to explore our WANDERLUST blog—it's chock-full of engaging tales and helpful tips from our travels around the world.

The Elation of Vacation Preparation
Mar 17, 2011
It's a miserable oxymoron, but planning to go on vacation involves a lot of work.  Whether you're traveling with a companion or part of a group travel experience, it's true; for that much-needed vacation, one must spend a great deal of time to put their "regular" life on hold and put their "vacation" life in place.  It's important to properly prepare for your departure, arrival and ultimate return back home so that you can maximize your rest-ability without a total disruption of your home life.  As a dude who  is in the constant motion of traveling—leading our Jewish singles vacations, or sometimes just taking a vacation for myself—I've garnered some handy tips on how to lessen the burden of preparation, keep life at home ready for your return, and to have a carefree transition on both ends.
Call Your Credit Card Company
Many credit card companies have identity protection plans in place that help protect travelers from theft and fraud. If you're traveling internationally, it's a good idea to contact your credit card companies before traveling to ensure the card will work.  Check the back of your credit card for customer service numbers
Place a "Hold" on Mail and Deliveries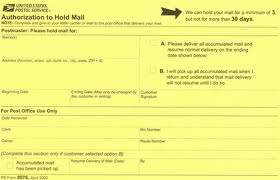 Your nearest post office branch has a pretty yellow post card that you can fill out in about 30 seconds to request your mail to be held during the dates you are away.  Keep a supply at home with you and mail it, free of charge, about a week before your departure. They will even deliver the whole mishpucha to you on the date you select for your return. (I don't suggest using the online "hold mail" option as it doesn't seem to be an effective communication source).  I usually put the start date to be one day before my departure, just to make certain they actually have begun to hold my mail.  Stop on all automatic deliveries like your daily newspaper by simply calling their circulation department and let them know you'll be placing your delivery on hold.
Leave transit details and contact phone numbers with family and friends in case they need to reach you while you're away. These include phone number of the hotels where you're staying, flight numbers, contact info of airlines, cruise ship and your tour company…and for those who may be watching your pets or kids, phone numbers for doctors/veterinarians, if necessary
If you have a furry family member, you may actually be inclined to provide more setup care for this loved one than you give attention to for yourself.  We love our cats and dogs that much!    If you are planning to leave Fluffy at a kennel (called "Pet Resorts" these days) be sure to make your reservation as far in advance as possible.  Many "resorts" can sell out of their "deluxe accommodations" early, especially around holiday times.  When you do drop off your little ball of love, be sure to leave the staff with your contact information as well as all medications, your vet's phone numbers and a few familiar toys & treats so that s/he feels as at-home as much as possible.
Never leave town without some cash – domestic or foreign currency! If you're traveling within the country, make sure to hit the bank before you leave so that you don't end up paying ATM surcharge fees in another destination.  If you're traveling overseas, it's a good idea to carry some of the local country's currency with you. Take enough cash for cab fare or transfer fees so you don't have to go in search of an exchange booth. Amazing Journeys' website provides a link to Oanda currency converter (click our Resources button) to determine the best rate of exchange for your money.
Before you zip up the suitcase and head to the airport, do one last check of the local weather in your destination and make any necessary adjustments to clothes and amenities.
Pack Your Essentials…properly
Before leaving the house ensure that you have all necessary essentials.  Most importantly, LOOK AT YOUR PASSPORT! Seriously, open it up and look at the photo to make sure you have and the right one.  I've seen it happen; you have a roommate, a spouse, a traveling companion…and you inadvertently slip the wrong passport into your pocket.  Major problem if you present someone else's passport at security!   The following items should be kept on your person, not packed in your suitcase:  Passport/identification…all medications….all your travel documents including airline ticket, cruise ticket, car/hotel reservation….cash/credit cards/travelers cheques….one change of clothes, just in case your luggage doesn't arrive as planned.
Overpacking is a major issue on many fronts. Its hard on your back, it costs you money at the airports and it wastes time in transition as baggage handlers, motor coach drivers and  hotel personnel have to haul and lug.  Excess weight isn't green for the environment either as it utilizes more fuel on planes, cars and busses and the aforementioned burden on physical stress.  My simple rule of thumb is to simply pack for less.  It's actually okay to wear things twice (or thrice), to do some laundry (cheaper to send out a load at the hotel than to pay overweight fees at the airport) and to treat yourself to something new while on vacation.
Turn off your water, turn on your timers, and unplug your appliances
If your home will be vacant for a period time, you should absolutely turn off your main water valve and drain all the faucets.  If a pipe were to burst, the water would just flow endlessly until you got home. Even if you live in a cold weather environment, a frozen pipe is better than a busted flowing pipe.  Contrary to popular belief, letting your water drip does not prevent freezing.   When you return home, turn the valve and all faucets on gradually to avoid a massive rush of water.   Also, unplug all unnecessary appliances like the toaster, your hair dryer and even your computer.  With electricity still flowing, you'll burn unnecessary units and assume wasted costs. Plus, you'll save the life of these items should there be a power surge in your absence.  Finally, get yourself a timer for a lamp so that it comes on and off at varying intervals.  A light turning on and off is a deterrent for a would-be burglar.
View older entries
No Comments
No comments yet.
RSS feed for comments on this post.
Sorry, the comment form is closed at this time.