Here at Amazing Journeys, we're lucky to have the best jobs in the world—and we think our good fortune is worth sharing. So, when your next journey seems like a distant dream, take a few minutes to explore our WANDERLUST blog—it's chock-full of engaging tales and helpful tips from our travels around the world.

We're traveling again!
Mar 18, 2022
by Malori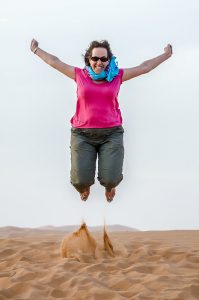 Amazing Journeys is on the move and we couldn't be happier!  It's been a long road going nowhere, essentially.  It is said that a journey of a thousand miles begins with a single step and here at Amazing Journeys, we have done just that.  So here we are, two years later, stepping out into the world once more. While some borders are still closed, we have scheduled, re-scheduled and re-scheduled again, in order to provide you the trips to destinations you have waited your entire lives to experience.
Every day, country borders are reopening and protocols for entrance are becoming less cumbersome. As of today, the UK has lifted all Covid restrictions, dropping the lengthy forms necessary upon arrival.  The CDC has dropped the restrictions on cruising from a Level 3 to a Level 2 with no testing required upon return to the US from "closed loop" itineraries such as the Caribbean and Bahamas. New Zealand is reopening for tourism in the coming weeks. Aruba, Hawaii, Italy… they are all lifting restrictions and day-after-day, the outlook is getting better. This is all great news from an industry that has been stuck in a holding pattern for two years.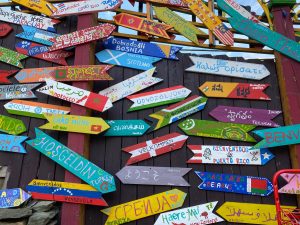 Still, there are contingency measures in place, should variants come into play. Pandemics, war, fuel prices, financial markets, diplomacy, earthquakes, tsunamis – our industry is a volatile one. We are taking baby steps to return to our "new normal."  But just like we are experts in our field of travel planning and logistics, so are we adept in patience and being able to change plans at the drop of a hat. It's nothing new… only this time the changes went on for two years and continue to do so.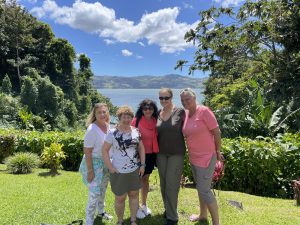 We're now ready to put the past behind us and venture out once more.  We're excited that our first tour of 2022 just returned!  With Stacey leading our group of 24 amazing journeyers, we hit the road to lush tropical jungles, cloud forests and beaches of Costa Rica.  There, we zip- lined, hiked across hanging bridges, and enjoyed time at the thermal waters of the Arenal volcano-fed hot springs.  We saw indigenous wildlife including sloths and coati, whales and dolphins, butterflies and hummingbirds… oh, and the occasional lizard and huge spider in our rooms!  The group was so happy to be traveling again, seeing the sites and traveling with a fun group.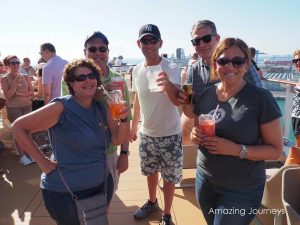 Our first cruise in over two years is happening in two weeks!  Can you hear the excitement in my writing?  We're headed to Nassau in the Bahamas and Key West on the beautifully renovated Celebrity Millennium.  Still, just yesterday we had a change of itinerary, so like every industry, it is not in 100% "working order" just yet.  But our ports of Nassau and Key West will still be visited and we can't wait to get this party started!
We just announced a cruise to the Panama Canal & Caribbean over New Years and in just 10 days, we had over 40 people sign up.  Our travelers are ready to hit the road.  And at Amazing Journeys, we couldn't be happier!
View older entries
No Comments
No comments yet.
RSS feed for comments on this post.
Sorry, the comment form is closed at this time.