-by Erin
Between the polar vortex and record snowfalls, most of us have had quite a winter. And if you add travel and flying into the wintry mix, you should consider yourself lucky if you made it to your final destination on time. But the weather is not the only reason why tens of thousands of passengers might find themselves stranded and struggling to make their way home.  Watch the video below and read the article to learn about 'The Cancellator', a computer system that helps to determine which flights will actually take off, and what preparations you can take to try and make it to your destination on time.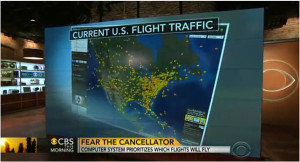 click here to watch the CBS News video

A computer system named 'The Cancellator' decides if your flight is grounded, report says
by Claudine Zap
Meet the Cancellator: the "Terminator" of airline travel. The computer system decides which flights will go, and which will be cancelled, according to Time magazine's latest cover story.
"The Cancellator," the nickname American Airlines employees apparently gave their system, "attempts to keep the chaos in the system to a minimum even as it maximizes the headaches for the unlucky. The idea is to use predictive models to cancel flights early, before people even leave for the airport," according to Time. Other airlines use similar programs.
More than 75,000 flights have been canceled since Dec. 1, according to CBS "This Morning." In fact, Time magazine asserts — and passenger experience may confirm — that more flights have been grounded this winter than at any other time since 1987
The paralyzing polar vortex combined with government regulations that slap airlines with steep fines for keeping passengers stuck on the tarmac has led airlines to "prespond"— cancel flights before travelers even arrive at the airport.
Which flights are nixed is decided by these Cancellator systems. "Turns out, the cancellations most travelers experience as random and cruel are anything but," the Time story notes
"The Cancellator is the series of programs that decides who flies," Time magazine assistant managing editor of Bill Saporito told " CBS This Morning." He traveled to the American Airlines operations center during a recent winter storm to see how the fate of travelers was handled.
"There's a weighting system that takes a look at who's flying, where are they going, where are the jets, where are the pilots, everything has to be measured."
How do you beat the system? International flights are less likely to be canceled, Saporito says. "If you're on a domestic flight that has a crew that's ferrying to an international flight, that's not going to be canceled, because if they cancel that flight they'd have to cancel the international flight."
If your flight is full of travelers who won't be connecting to another flight, you might be out of luck. Ditto for flying from one busy hub to another, such as Dallas to New York, because it will be easier to rebook the flight, writes Saporito. Airlines also factor in the price you paid for your ticket. Discount leisure fare customers will take a back seat to full-fare business fliers.
Original source: Yahoo Travel