– by Erin
The passengers on our upcoming Danube River Cruise will have the opportunity to taste local specialties of the region including crafted brews, indulgent chocolate and of course, homemade strudel.  In an attempt for everyone to get their fair share of pastry, we thought it was only fair to share a recipe for this delicious delicacy!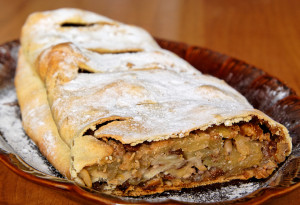 STRUDEL PASTRY
INGREDIENTS
Pastry Ingredients
1 ¼ cups flour
2 tbsp. vegetable oil
1 egg
1 ½ cups water
½ tsp. salt
1 tbsp. sugar
½ stick butter
Stuffing for Pastry
2 lbs. green apples, peeled and sliced thinly
1 oz. cinnamon
2 oz. raisins
3 oz. sugar
2 oz. dark rum
1 egg yolk
PREPARATION METHOD
Sift the flour and combine with sugar and salt. Mix the egg and oil together, and them with the dry ingredients. Add the water to the dough a tablespoon at a time and knead the dough for 5-10 minutes. Form into a ball and set aside, covered for 30 minutes. Take the dough and roll it out as thinly as possible in a rectangle on a lightly floured pastry board. Drape the sheet of dough over your hands and stretch, being careful not to tear it. Continue until the sheet of dough is very thin, always working from the middle toward the edges until it reaches 18″ x 14″. Lay the sheet of dough on a well-floured pastry cloth. Brush with melted butter. In a bowl, mix the apples, sugar, raisins, cinnamon and dark rum. Spread immediately on the dough. Form a long, tightly tucked roll. Press the ends and seal. Butter an 18" x 12" oven tray with raised sides and preheat the oven to 475°. Beat the egg yolk and brush over the strudel, and then sprinkle with sugar. Bake for 10 minutes at 475° then lower to 400° and bake for 20 minutes. Lower to 300° and bake and additional 15 minutes. Remove from pan and place on a large serving tray. Pour the juice from the pay over the strudel and set aside to cool. Serve either hot or cold, and garnish with whipped cream or vanilla ice cream.
Makes 10 servings