– by Bill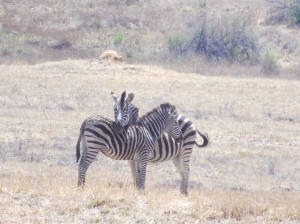 We were driving…."game" driving that is.  In the middle of the Entabeni Private Game Conservancy about 3 hours east of Johannesburgh South Africia, our open air jeep moving along a bush road in search of….whatever.  On a game drive, one never knows what one will find and so we just watched and waited for the next amazing sight -whatever it might be.  Already we had seen our share of antelope – rather some of the 91 variations of the antelope species that inhabit Africa. At first, seeing a Spring Buck, an Impala or a Kudu was exciting…but it wasn't long before we were looking beyond "another antelope" in search of the next big thing.  Well, it was actually the Big Five that we coveted most: lion, leopard, elephant, buffalo and rhino.   It was only our 2nd day on safari but already we had seen – in addition to antelope – a jackal, lots of wildebeest, several giraffes and even the not-as-elusive-as-we-thought cheetah.  It had been exciting…but above and beyond anything else we were bent on ticking the Big Five off our Seen In Africa checklist .
And so we drove.
Suddenly we ascended a small curvy mound on this dirt bush road when, around the bend, we suddently came to a screaching halt (more like a dusty halt) as the horns of a massive rhino were pointed sharply (and I mean "sharply") at our vehicle.  Mr. Rhino wasn't charging however – just staring.  And so, we stared back…amidst the clicking of camera shutters and mild shrieks of amazment.  In moment of suspended animation, we faced head-to-horn with this amazing creature as time stood still.
Suddenly, Mr. Rhino took a few steps RIGHT AT US!  While we squirmed in our seats our driver/ranger quietly knocked on the outside door of our jeep, which seemed to startle the creature and stop him in his tracks. Turns out that rhinos have terrible eyesight and probably didn't even know that we were there.  The sound alerted him that he should proceed elsewhere, and so he did, down into the bush.
This was one tick on our Safari checklist of the Big Five, and what a start.  It was exciting and mezmerizing, but it was only the beginning.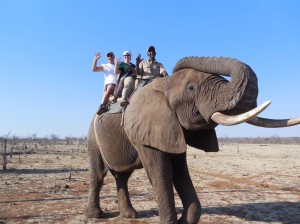 As our days throughout South Africa, Botswana and Zimbabwe went by our thirst for viewing all Big Five was satiated.  As were a few unique and special activities that many will never forget including swimming with Great White Sharks, riding an elephant and petting a famous cheetah named Sylvester.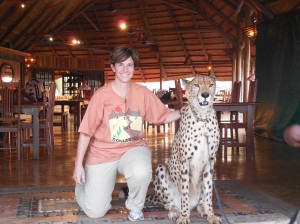 Sylvester is a rescue-now-ambassador of his species throughout all of Botswana. His mother and siblings were killed by lion when he was just one day old.  He would have died too had he not been rescued and now he lives somewhat domestically in a habitat where he is also visited by travelers, school children and researchers.  Sylvester has his own facebook page  and if you "like" him and you can learn all about his amazing story.-https://www.facebook.com/pages/Sylvester-Cheetah-Ambassador/169927003078626  We were all  truly and genuinely "wow'd" by Sylvester – petting a cheetah was utterly indescribable.
As the sun set on our amazing Africa adventure, our group of 18 people were left with warm feelings of Africa, a new sense of adventure and a renewed spirit of the wild.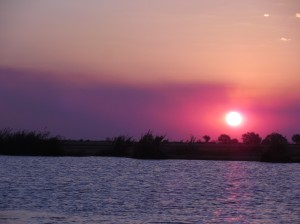 Early morning game drives, experiences of the local culture, adventures that touched our souls, and a heartfelt two weeks with friends is a memory that will never be forgotten.  The 15 hour flight home notwithstanding, being out of Africa keeps us longing to be back again.
*As a footnote to the rhino story, I am sorry to say that we were asked not to post any pictures.  Poaching rhino horns is an epidemic in southern Africa and with high tech criminals scanning the internet, ever little bit of effort helps.  Apologies for not being able to post an amazing picture of this remarkable creature.