-by Stacey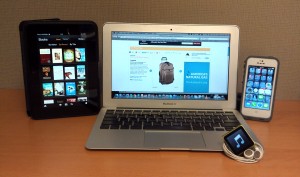 "Sir, I've already requested that all electronic devices be turned off"
"Wait, hold on, I'm just finishing this email"
"That is anything with an on-and-off switch"
"Please, I'm almost done"
"Sir, now please."
We've all heard this conversation. Sometimes we are the ones having this conversation. We are so connected to our devices that it's hard to disconnect during flights. Soon it will be a little easier to maintain your tech fix while you travel. You read that right, the FAA (Federal Aviation Administration) is expected to relax restrictions on in-flight devices.
While phone calls, texts, email, and use of Wi-Fi will still be off limits, the FAA is considering lifting the ban of reading tablets, listening to previously downloaded podcasts and music, and watching videos. That way you can keep reading that page-flicker (is that the modern version of the page-turner?) from your home town gate all the way until your arrival.
So read, listen, and watch on, my fair travelers. You may now sit back, relax, and enjoy your flight.