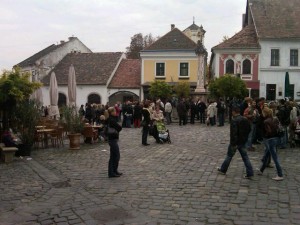 Our "grand finale" was a day to remember. As this note posts our group of nearly 40 are each on their way home after a truly amazing journey. But, before departing Budapest, our group divided into their choice of options. Some departed in the morning for the towns of Esztergom, Visegrad and Szentendre along the Danube Bend, about 25 miles north of Budapest. On our tour, we visit the historical Baroque towns of Szentendre, the hilltop castle ruins and town of Visegrad, and the cathedral town of Esztergom.
Some folks chose the Hungarian Spa experience. Budapest is often called the "Spa Capital" because it is the only capital city in the world with real hot springs inside the city boundaries. Spas have a long tradition in Hungary, going back to Roman times. Our package included use of thermal baths, aroma cabin, adventure pool, sauna, steam and a massage.  
We concluded the day and the entire program with our trademark farewell program and dinner..but as we weren't quite ready to call it a trip, we culminated our farewell to Budapest with a Danube riverboat ride to view the lighted bridges, castles and even our hotel for a final treat for the senses.  
We hope you enjoyed this armchair tour of our amazing adventure in Prague and Budapest. Stay tuned for lots more in the days and weeks ahead. In just two weeks, Amazing Journeys heads off again—this time to "the land down under" Australia and New Zealand.