by Malori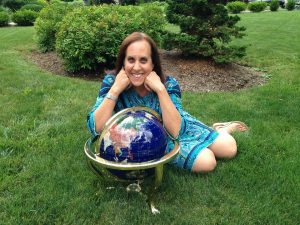 From the time I was a little kid, maybe 10 years old, I had a fascination with everything travel. I used to ask my parents to take me to our local airport (LAX in Los Angeles) which thrilled me to no end.  The hustle bustle, the sights, sounds and smells.  Hearing announcements in languages I couldn't understand. The luggage stacked up on the runway, waiting to be loaded into the belly of the planes. The board announcing arrivals and departures for sites unknown. People gathering from all different places on earth, traveling to countries far and wide.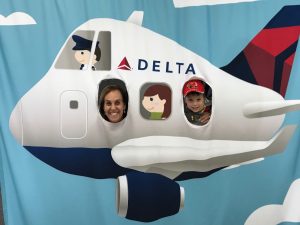 In the international terminal, as I walked from gate to gate, I was virtually transported around the world, hearing different languages as people headed to what I had imagined to be all places wonderful. I used to imagine why they were going to wherever it was they were headed.  I'd make up probable scenarios in my mind.  Some were most likely off to explore an exotic destination that one day I'd like to visit myself!  I'd see lots of travelers, perhaps returning home after a visit to our country, or maybe meeting up with family they hadn't seen for a long time. I would listen closely for different languages being spoken, an occurrence  that still fascinates me.  To this day, when hearing someone speaking a different language or with an accent, I enjoy engaging them in conversation and eventually asking where they're from and most likely, I've been there.  The fact that I have seen their country which they miss and are certainly proud of, breaks down many barriers and we enjoy knowing that much more about one another.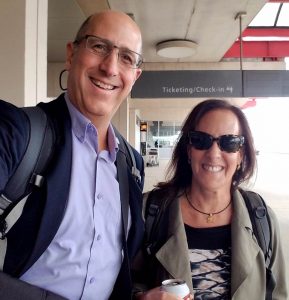 I remember being at the airport with my parents, picking up my Aunt Shirley and Uncle Marv who had just landed after a once-in-a-lifetime dream trip to Hawaii.  As passengers started arriving with their individual boxes of souvenir coconuts and pineapples in hand, each passenger was adorned with flower leis made of orchids picked and strung just prior to their five hour flight from Honolulu to LAX. The airport gate was laden with orchids and everything smelled so sweet! I couldn't wait until I was old enough to travel to Hawaii.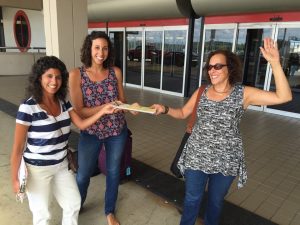 I am in love with the design, art and architecture of airports. Each one is truly unique and each were considered modern at the time in which they were built.  I love how the logistics work both inside airports and coordinating all of the flights internationally.  I love the individual airlines logo, colors, uniform design and everything about them as I scurry through airports worldwide. When I graduated college, earning my degree with a focus on Commercial Interior Design, I wanted to design airports or hotels.  But living in Mobile, Alabama at the time of my first job post-graduation, there were no architectural or design firms in the city building airports…or hotels.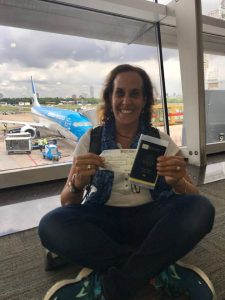 My favorite airport?  I love all the features designed into the Singapore Changi Airport. Having won the Best Airport Award seven years in a row, you quickly learn why.  With relaxing forested areas and the world's largest indoor waterfall, a butterfly garden, a movie theater, swimming pool and world class restaurants and shopping, this airport earns the top spot.  My favorite domestic airport is Atlanta Hartsfield-Jackson Airport. Built in 1980, I was one of the first passengers coming through this modern airport and they have kept it growing and modern ever since.  My favorite feature is the art galleries placed all over the airport, each with different themes and always changing. My favorite artwork is between Concourses A and B. Besides interesting sculptures in the center of the underground walkway, and murals lining the sides of this 450 foot passage, most people don't look up to see the most interesting ceiling covered in art, an installation called Flight Paths. This walkway has sounds of rain, simulated lightning and thunder and is missed by most travelers. The worst airport?  In my opinion, it's Charles de Gaulle in Paris.  It's so spread out, it's larger than most cities in Alaska.  Maybe all of them!  You have to allow hours to navigate between flights and it always seems to be under construction. Terminals and gates are labeled nonsensically and you'll find gates and terminals labeled with F12H and KA12T and the like.  I've been through CDG a plethora of times and I still don't get it. You have to leave and reenter security at least once per plane change and typically, your terminal isn't on the train system and they shuttle you from terminal to terminal, using back entrances, stairways and alleys.  What a mess!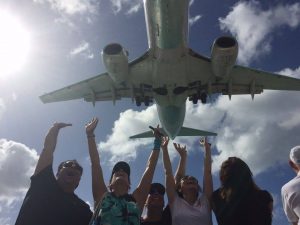 While I realize most travelers look at airports as an inconvenience, and the length  of time spent mid-air as a "boring part of travel which must be endured" to get to the destination which is the real excitement, just know that for some of us, "it's the journey and not the destination."