With online travel sites battling with some airlines, where does that leave travelers shopping for flights online? The simple answer is that they're going to have to do more digging.  
Aircraft at Newark Liberty International Airport. American and Delta have removed flight listings from a range of Web sites.
Airlines are pulling their fares from travel Web sites amid a standoff over the fees that carriers pay to list their flights.
American Airlines removed its flight listings from Orbitz.com last month, when the companies could not agree on a new contract, and Delta withdrew its fares from CheapoAir.com, OneTravel.com and Bookit.com. More recently, Expedia.com dropped American flight listings. Delta has also notified Airfare.com, CheapAir.com, Vegas.com, AirGorilla.com and Globester.com that it will no longer allow its fares to be included on their Web sites in the United States and Canada after Friday.
The moves represent a standoff over the fees that airlines must pay to list their flights with online travel agencies. And at least one major fare distributor, Sabre, which runs a computer system that allows travel agents to see flight and fare information, joined the fray on Wednesday, announcing that it would end its distribution deal with American in August — a month before the end of its contract — and, in the meantime, would make American fares harder to see in its displays.
But American and Delta are not the only airlines becoming more selective about where their fares appear online. JetBlue, Virgin America and Spirit have increasingly been offering special fare sales only through their own Web sites. And some low-cost carriers, including Southwest and Allegiant Air, have long refused to list fares at online agencies or fare aggregators like Kayak.com, requiring travelers to visit the airlines' own Web sites to see their flights.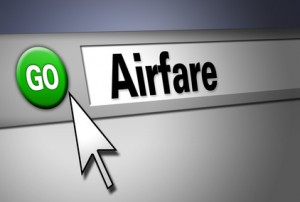 So what's the best way to search for fares now? Currently, there is no one-stop shopping site that includes all fares, but it is possible to cover your bases using only a few sites.
Start with ITA Software, which provides the technological backbone for many air fare shopping sites. It offers an easy way to narrow down the cheapest days to fly by allowing anyone to scan an entire month's worth of fares for the cheapest rate. Click on "search airfares now" in the middle of the home page, then enter your departure date and destination and select "see calendar of lowest fares" to see which travel days yield the lowest rates. Travelers can also narrow searches by the number of stops and length of trip. But to book the actual ticket, users must go to another site, like the airline's.
Cover your bases by adding a so-called meta-search site like Kayak.com, Fly.com or Farecompare.com, which don't sell plane tickets but search hundreds of travel sites at once. Doing this will give you an idea of the best rates available from various sites. Each meta-search site configures its technology and accesses fares slightly differently, which can affect results. The sites also tend to differentiate themselves through special partnerships. Kayak.com, for example, receives fares from ITA Software; Amadeus, a global distribution system; and some airlines directly, including American and Delta. FareCompare licenses air fare data from more than 500 airlines via the Airline Tariff Publishing Company, which consolidates and distributes airline fares worldwide.
Before you hit the buy button, check out Airfarewatchdog.com, a site with actual people who manually search for fares and will sometimes uncover cheaper fares than the other sites. It often captures sales from Allegiant and Southwest, as well as special, last-minute fares that airlines often save for their own Web sites, like "JetBlue Cheeps" which are put on sale on Tuesdays via Twitter and listed only at jetblue.com/cheeps.
For trips to Europe, consider Momondo.com, a Danish travel search site that scours the airlines' own Web sites as well as online agencies that focus on low-cost regional carriers, like LyddAir. It also compares rates with more than 4,000 high-speed train routes across Europe — a valuable service, as trains are often more convenient in Europe than planes. One caveat: Because of the way Momondo pulls fares, it may show expired fares in its results.
To help evaluate prices, consider Bing.com, which offers a Price Predictor that uses algorithms to determine whether a fare is likely to rise or fall in the next seven days; this can help when trying to decide whether to buy now or wait for a better rate. Students can also consult STATravel.com or StudentUniverse.com, which offer special deals for anyone enrolled in college or graduate school.
And for those who care most about the quality of the flight experience, there are a couple of notable mentions. Rather than a long list of fares, Hipmunk.com sorts fares according to an "agony" index that factors in price, length of flight and number of connections. In a similar vein, InsideTrip.com, evaluates flights by 11 criteria, including legroom, aircraft age and on-time performance.