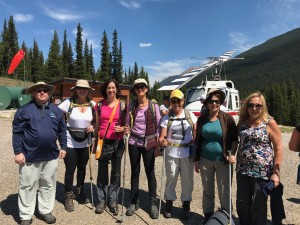 by Malori
Wow!  That is the word heard by our group of 9 travelers over and over again on our heli-hiking adventure with CMH.  Since 1967, Canadian Mountain Holidays has been using helicopters to transport their guests up into the 9,000 feet elevations first for skiing, and then realizing they could fill their off-season, they invented heli-hiking as well.
After a two-hour bus ride from Banff, we arrived at a field, surrounded by local farms.  We were given a briefing on helicopter safely, including how to properly load a helicopter, buckle in and a few other safety notes.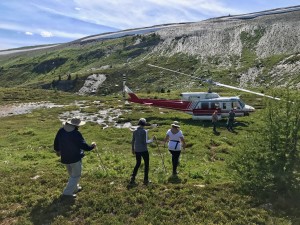 Hearing the distant sounds of helicopter blades in the background, we became more and more excited.  The sounds became more prevalent as they moved closer to us.  Now in complete view, we realized this is our transportation for the next three days.  Excitement grew as we climbed onboard and smiles radiated from our faces.  We would soon be off!
Up in the air, climbing higher and higher over rivers, trees and then granite, glacier-filed mountains, the smiles didn't leave our faces.  We knew we were in for the most special three days anyone can experience.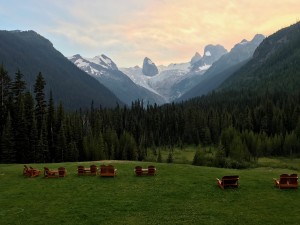 Once at our remote lodge, situated in front of a beautiful glacier, we were outfitted with jackets and pants, boots and poles.  With our equipment and a few instructions, we checked into our rooms, had a bite for lunch, packed a snack, met our guides and off we went – onto our helicopter for the first drop off point.
We spent the next two and a half days playing and hiking in the mountains.  Each morning we began our day with a stretch class for those who wanted, followed by a hearty breakfast, a packed lunch (we packed it from a variety of options set out for us each morning).  And then we were off!  One-by-one, the groups were gathered and off we'd fly, towards a different adventure spot each day.  Building on the skills we had learned the day prior, we felt ourselves becoming more confident on the mountains, participating in more technical climbs, and bring dropped off on higher and higher mountaintops, sometimes along the edges or cliffs!  But the guides were skilled, patient and friendly, and could help us through any situation.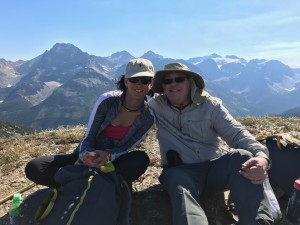 Seeing meadows, wildflowers, streams, granite spires, lakes, snow covered mountains and some wildlife, the scenery was varied and each view amazing.  We didn't want to leave!
The food and service at our lodge were amazing!  Our meals were creative and yummy. Prepared and shared by professionals, the quality was there in every sense of the word.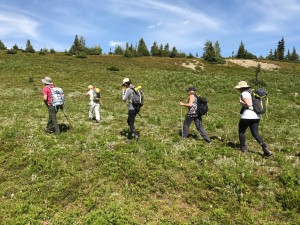 Too soon, our held-hiking adventure was coming to an end. Saying we wanted to stay was an understatement.  Most of us were already making plans for our next visit, whether with family, friends or another group of Amazing Journeys travelers in the future.  Let us know if you'd be up for a trip like this in the future – we can't wait to share it with you!