by Malori
I was walking this morning in my hometown and in the window of Lululemon on Beverly Drive, a sign caught my eye.  It said, "Where do you go to let go" and it got me thinking, where is my happy place?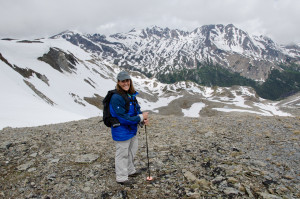 Of all the places on earth, heli-hiking in the Canadian Rockies is where I let go.  On my personal bucket list for over 25 years, I had a chance to experience this magical vacation spot myself a few years ago.  Then I went back the next year with a group so that others could experience this magic.  For three days, a helicopter transports me to the mountaintops where I am far away from everything.  There are literally no people except for a few others staying in the lodge.  There are no buildings, traffic lights or roads.  I spend my days hiking along the mountain ridges, overlooking the bluest lakes and come face-to-face with waterfalls.  One day we may be walking among wildflowers through a meadow, and the next on a glacier.  I'm in heaven.  I de-stress.  I'm happy.  I'm going back again this summer.  Want to join me?
Please share with us – where do you go to let go?