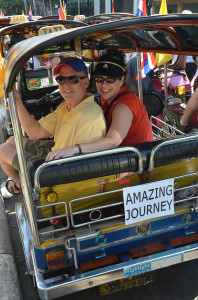 You've booked your vacation and are counting down the days before you leave.  Take a few minutes to check out some of these awesome apps that can save you time, frustration and even embarrassment when traveling.
Postale
This app combines the fun of old-school postcards with the modern convenience of social media. You can use your own just-shot vacation snaps to create your card and the whole process takes mere minutes: Choose a layout and background, add photo, title and message, then finish it off with an artsy postmark. Send it straight from the app using e-mail, Facebook or Twitter. A unique stamp is automatically added that shows from where and when your card was transmitted. It's a personal way of updating family and friends on your how your vacation is going. Click here for app
TripLingo
You'll never be lost for words with TripLingo, a free app that's part phrasebook, part phonetics coach. Search the word bank in 13 languages – including German, Italian, Hindi and Japanese – for everything from body parts and emotions to weather conditions and restaurant-relevant vocabulary. A handy slang-slider translates must-know questions and pleasantries in four different ways, from a formal approach to the most colloquial. An automated voice coach can even fine-tune your accent. Click here for app
JetPac City Guides
This free iPhone app analyzes details of more than 100 million Instagram images to point travellers to the world's hippest hangouts, happiest places and best views. It ranks publicly shared digital photos by such details as the amount of blue sky, the number of smiles, evidence of coffee cups or wine glasses, and so on, to come up with Top 10 lists. The results are hit and miss. If you're heading to Paris, and want to know where the city's best museums are, you'll be offered the usual (Louvre, Centre Pompidou, Musée d'Orsay). Searching for the happiest places, however, leads to a list of nightclubs, restaurants, bars and an office tower. Stay away from gimmicky recommendations and instead look for coffee shops, dog-friendly places and where parents go with kids.
Rove
Having trouble retracing the steps of your recent Roman holiday? This free iPhone app uses GPS data to track all the places you've been. It works in the background to create a travel log of sights, restaurants, hotels and shops that you've visited. The part calendar/part map layout is easy to read and tracks whether you got somewhere on foot, bike, bus or taxi. You can tailor things further by adding notes. Click here for app
Symbolic App
Looking for a pair of chopsticks in Tokyo or a cut of sirloin in Argentina? Symbolic App can help you find the right words. The iOS app is loaded with more than 3,000 symbols in English, French, Spanish, Chinese and Japanese, depicting everything from basic food and drink and health-related matters to hard-to-decipher settings on foreign washing machines. Use the search function to find the right word or phrase. While the pictorial dictionary includes a wide range of categories, it takes a while to navigate the pages. Under "Security," for instance, you have to scroll randomly through symbols like bomb and battery explosion before finding a way to say "immigration." Click here for app
Travel List
Get your suitcase in order! This app takes the guesswork out of packing. Start by setting up a series of lists based on the type of vacation you're taking (beach, safari, city weekend, and so on) and populate them from the preset menus. Within minutes, you scroll through categories that include personal care, clothing, gadgets and documents, and pick must-have items from GPS and mosquito repellent to bikinis, belts and sunscreen. Specify quantities of each item and tick them off once they're packed. While there are other packing-list apps out there, this one has a simple layout, is easy to navigate and it allows users to copy pre-existing lists, so you don't have to start from scratch every time. Click here for app
Originally posted on The Globe and Mail